Push your body to its maximum ability for a short period, to burn more calories and develop a strong, fit body quicker with this full body cardio burst. Get the most out of your workouts and enjoy a post-workout increase in your calorie-burning capacity. It's minimum time with maximum results!
Full Body Cardio Burst Workout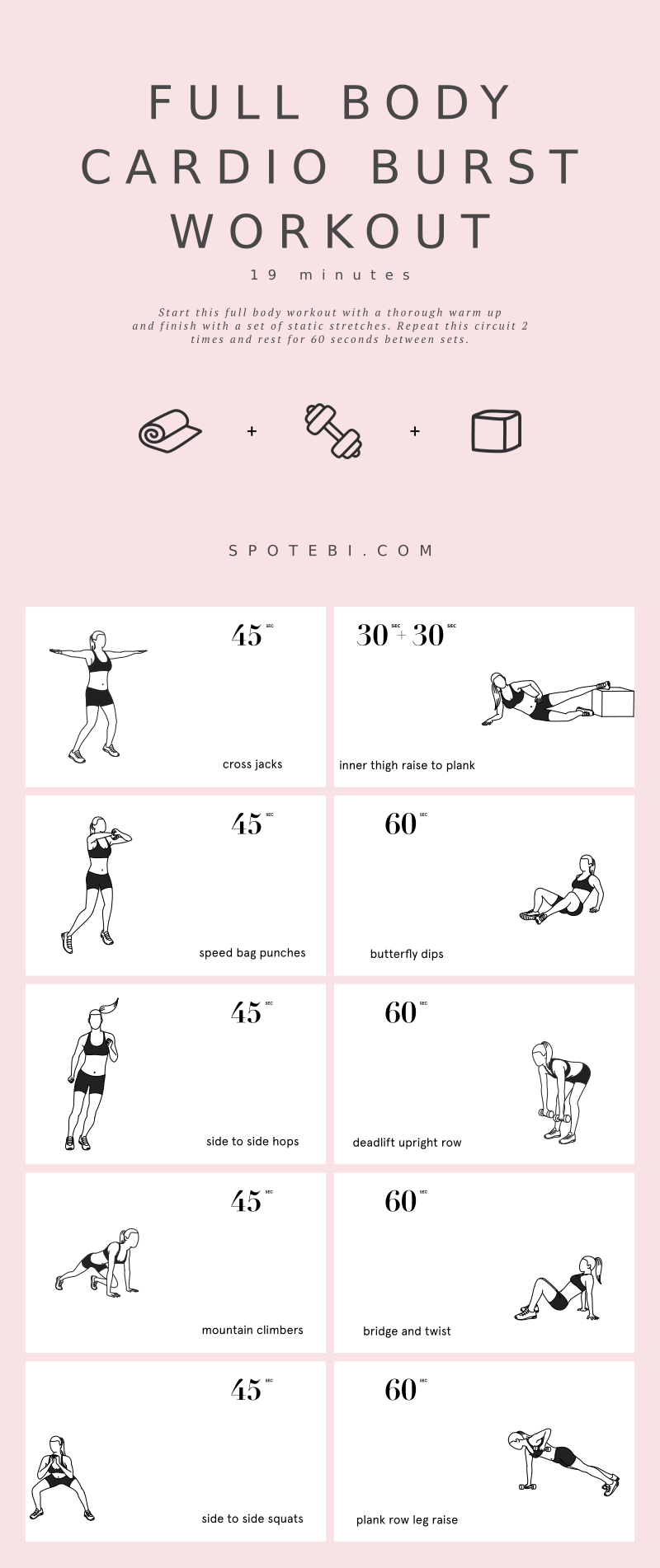 Description: Repeat this circuit 2 times and rest for 60 seconds between sets.
Equipment: dumbbells, step/box
WARM UP & COOL DOWN
Full Body Cardio Burst Workout Instructions
1. Cross jacks: 45 seconds. Stand with your feet shoulder-width apart and jump up, while crossing your legs and arms in front of you.
2. Inner thigh raise to plank: 30 seconds + 30 seconds. Start in a side plank position with your right shoulder over your elbow, place your left foot on top of a box and bend your right leg back. Squeeze the inner left thigh and lift your hip off the mat. Bring your hip down, without letting it touch the floor, and then bring it back up until your body is in a straight line. Repeat for 30 seconds and then switch sides.
3. Speed bag punches: 45 seconds. Stand up, raise your elbows up to shoulder level, shift your weight to the right leg and rotate your right forearm twice. Switch sides and repeat.
4. Butterfly dips: 60 seconds. Sit on the mat with your feet together, place your hands behind you, bend your knees and let your thighs fall open. Straighten your arms as you press your hips up and bring both knees together. Bend your elbows and lower your body back to the starting position. Repeat for 60 seconds.
5. Side to side hops: 45 seconds. Stand up with your feet hip-width apart. Jump with both feet to the right and then to the left, in a quick, repetitive movement.
From the Shop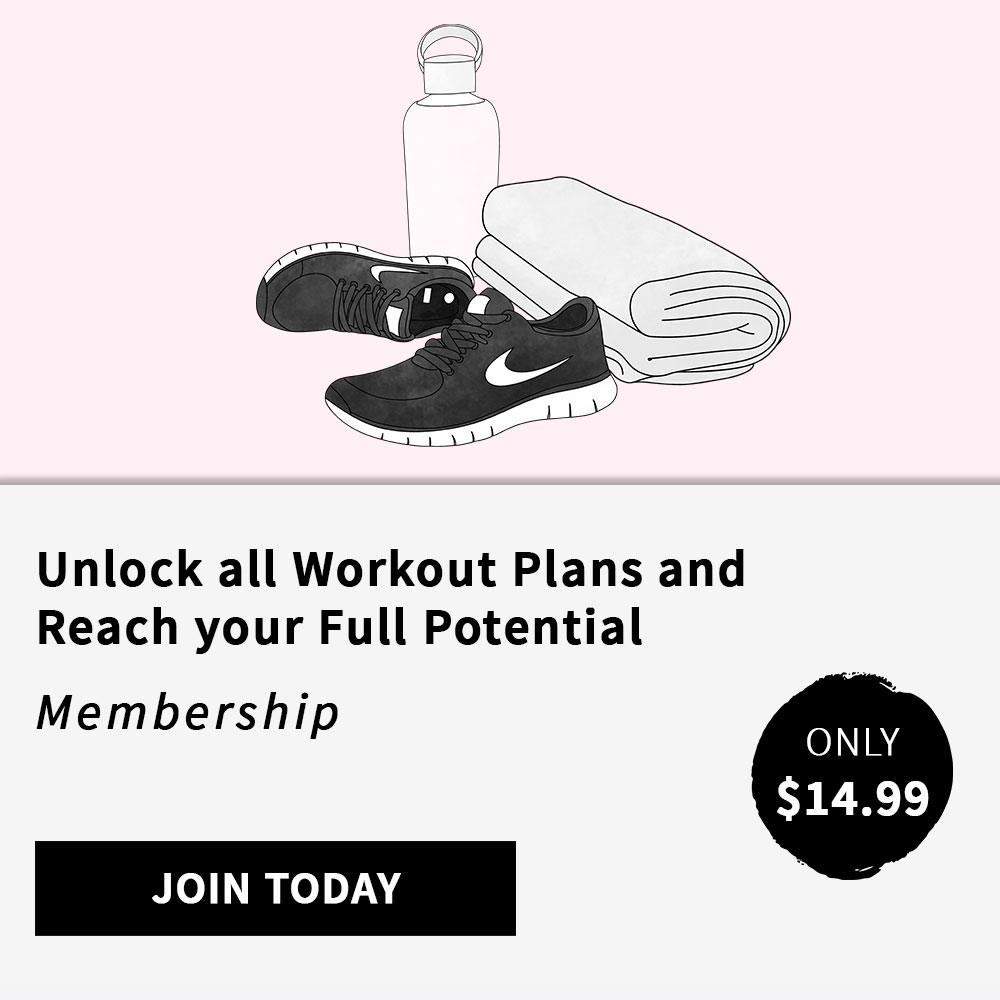 6. Deadlift upright row: 60 seconds. Stand up with your feet shoulder-width apart and hold a set of dumbbells in front of your thighs. Push your hips back and lower the dumbbells until your torso is parallel to the floor. Stand up and pull the dumbbells toward your chest, keeping your arms a little wider than shoulder-width apart.
7. Mountain climbers: 45 seconds. Get down into a plank position, bring one knee up toward the center of your stomach, and then quickly alternate between legs.
8. Bridge and twist: 60 seconds. Sit on the mat with your knees bent and your arms extended back. Lift your butt off the mat, extend your right arm toward the ceiling and twist your torso to the left. Lower the hips, return to the starting position, and repeat on the opposite side.
9. Side to side squats: 45 seconds. Squat and, as you stand up, take a small step to the side and squat again. Repeat this side-to-side movement until the set is complete.
10. Plank row leg raise: 60 seconds. Get into a plank position, with your hands under your shoulders, your feet a little wider than hip-width apart, and hold a dumbbell in each hand. Pull the right dumbbell toward your waistline, squeeze the shoulder blades and then repeat on the left side. Lift your right leg as high as you can without arching your back, hold for one second and then repeat with the left leg.
Workout Video
Workout Routine Interval Timer
Music Playlist
Calorie Calculator
Enter your weight to find out how many calories you can burn doing this full body cardio burst workout:
Did you know that dormant or inactive glutes are probably the main reason why most people struggle to grow their booty? If this is …
Increase your stamina and endurance with this intense bodyweight fat burner routine for women. A 30-minute full body workout, perfect for burning a ton of …
Move quickly from one exercise to the next while performing this 15-Minute Abs & Obliques Superset. Supersets help you finish your …