Lift your breasts naturally! Try these chest and back strengthening exercises for women to tone, firm, and lift the chest. This at-home workout routine will help you improve posture and increase upper body strength.
30-Minute Chest & Back Strengthening Exercises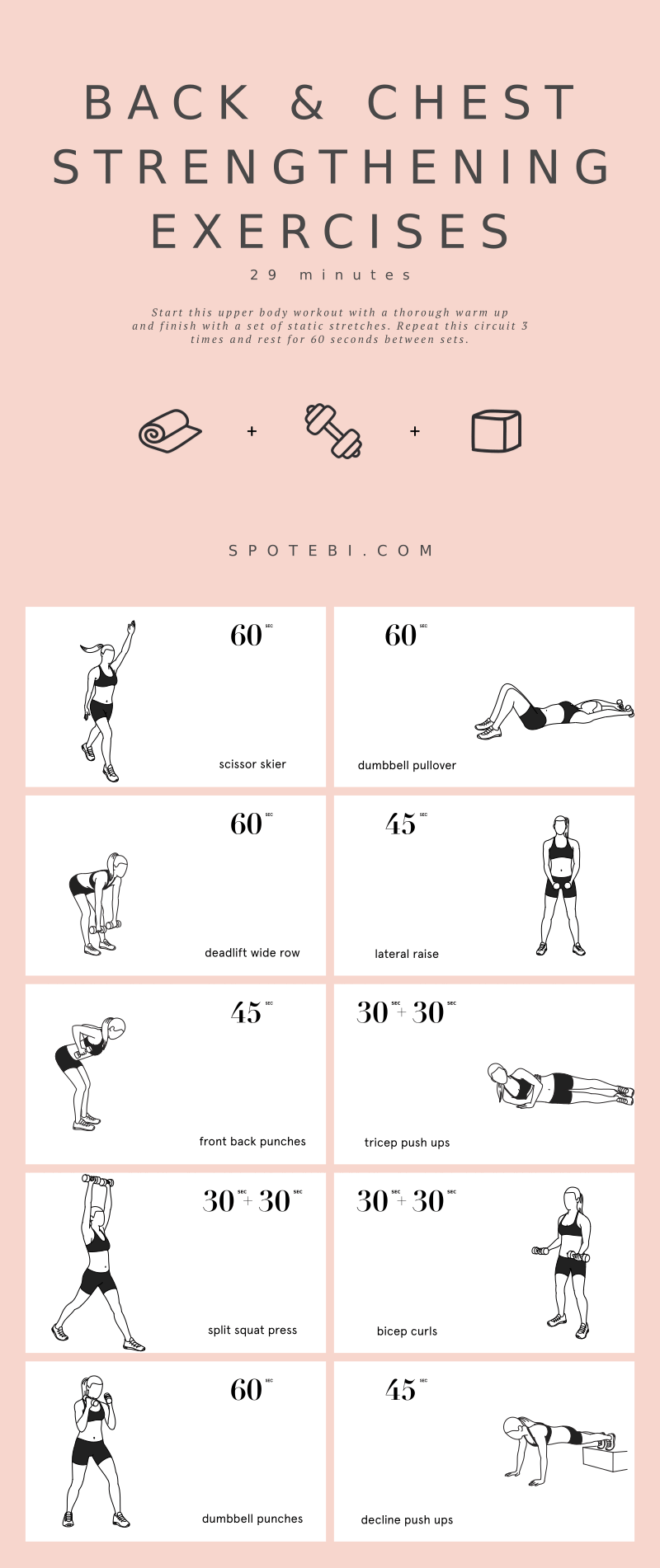 Description: Repeat this circuit 3 times and rest for 60 seconds between sets.
Equipment: dumbbells, box/step
WARM UP & COOL DOWN
Chest & Back Strengthening Exercises Instructions
1. Scissor skier: 60 seconds. Jump up, bring your right leg forward, your left leg back, reach your left arm up and your right arm back. Jump again and switch sides.
2. Dumbbell Pullover: 60 seconds. Lie on your back, hold one dumbbell with both hands and press your arms up. Lower the dumbbell over and beyond your head.
3. Deadlift upright row: 60 seconds. Stand up and hold a set of dumbbells in front of your thighs. Push your hips back and lower the dumbbells until your torso is parallel to the floor. Stand up and pull the dumbbells toward your chest, keeping your arms a little wider than shoulder-width apart. Repeat for 60 seconds.
4. Dumbbell lateral raise: 45 seconds. Raise your arms out to the sides until your elbows are at shoulder level and then lower them slowly.
5. Front and back punch: 45 seconds. Bend your torso and bring the dumbbells close to your rib cage. Punch to the front with your right arm and push your left arm back. Reverse arms and repeat.
From the Shop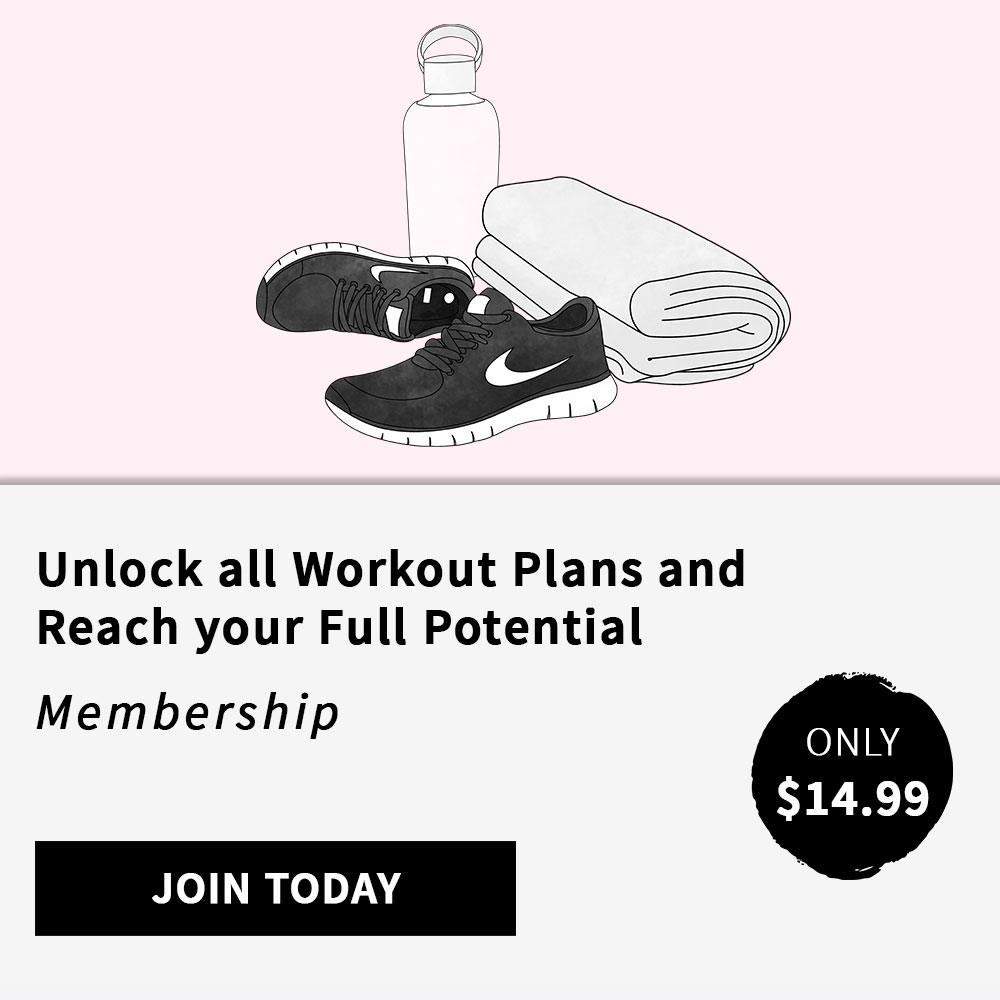 6. One arm tricep push up: 30 seconds + 30 seconds. Lie on your right side, place your left palm on the mat and hug your waist with your right arm. Straighten your left arm and push your torso up. Bend your arm and lower your torso back to the mat.
7. Split squat press: 30 seconds + 30 seconds. Start in a split leg position, with one leg forward and one leg back and hold a dumbbell in each hand. Flex your knees, until the back knee is just above the floor and position the dumbbells at your shoulders, with your palms facing forward and your elbows under your wrists. Stand back up, push the dumbbells up and fully extend your arms. Repeat this movement for 30 seconds and then switch legs.
8. Bicep curls: 30 seconds + 30 seconds. Keep your upper arms stationary, maintain your elbows close to your body, and breathe out as you lift the dumbbells.
9. Dumbbell punches: 60 seconds. Bring your arms up and push one arm out in a punching motion. Keep alternating sides and don't extend your arms completely.
10. Decline push ups: 45 seconds. Start in a plank position and place your feet on top of a step. Bend your elbows and lower your chest, until it's just above the floor, and then push back to the starting position.
Workout Video
Workout Routine Interval Timer
Music Playlist
Calorie Calculator
Enter your weight to find out how many calories you can burn doing these chest and back strengthening exercises:
Flatten your abs and blast calories with these 10 moves! A belly fat burner workout to tone up your tummy, strengthen your core, and …
Want to know the secret to a perfect booty? Try this Brazilian butt workout to shape, lift and firm your booty fast! A 30-minute at-home exercise routine to tone …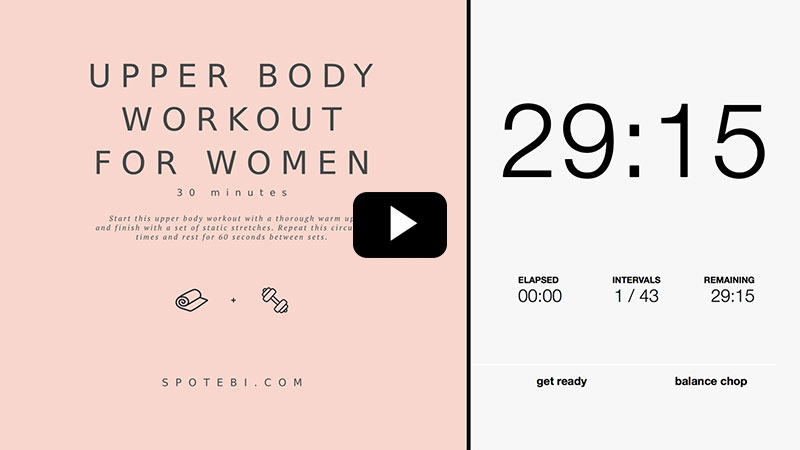 Look your best and get your arms, shoulders, back, and chest in tip-top shape with this 30-minute upper body workout. This strength …