Luckily, there are lots of non-surgical, natural alternatives to a tummy tuck, and these six exercises will help you burn fat, build muscle, and define your abs in just 10 minutes. Turn on the music, hit play on the interval timer, and focus on your abdominal muscles while completing this 10-Minute Tummy Tuck Workout!
10-Minute Tummy Tuck Workout
Description: Repeat this circuit 2 times and rest for 60 seconds between sets.
Equipment: dumbbell
WARM UP & COOL DOWN
10-Minute Tummy Tuck Workout Instructions
1. Plank hip dips: 45 seconds. Start in a low plank position with your body in a straight line, your elbows bent and under your shoulders and your feet hip-width apart. Rotate your hips to the right and dip your body almost to the floor. Return to the starting position and repeat on the left side. Keep alternating sides for 45 seconds.
2. Bicycle crunches: 45 seconds. Lie on your back, lift your shoulders off the mat and raise both legs. Bring one knee and the opposing elbow close to each other by crunching to one side, and fully extend the other leg. Return to the starting position and then crunch to the opposite side.
3. Dead bug: 45 seconds. Extend your arms and legs toward the ceiling. Lower your right leg and extend your left arm behind your head. Return to the starting position and repeat with the opposite arm and leg. Keep switching sides for 45 seconds.
From the Shop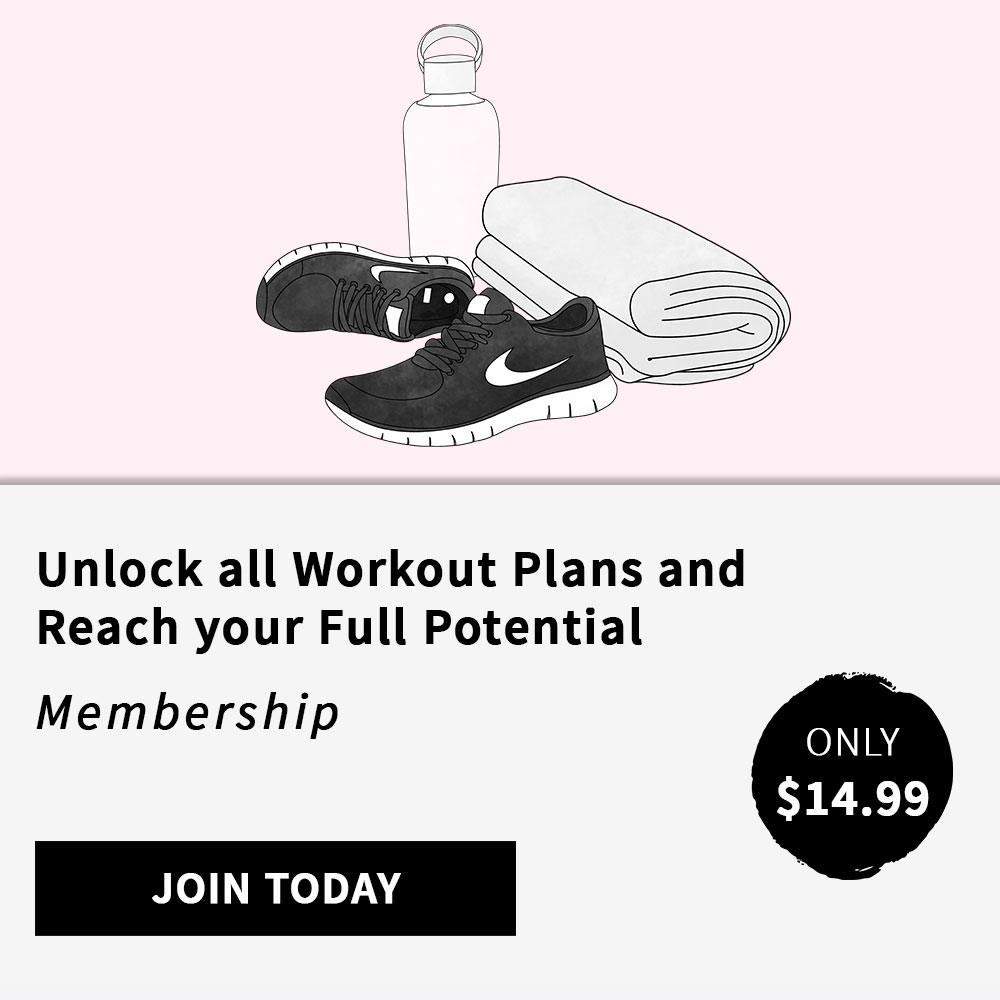 4. Reverse crunch twist: 45 seconds. Raise your legs and lift your hips, twisting them slightly to the left. Slowly lower the legs without letting them touch the floor and then repeat on the right side.
5. Straight leg raise: 45 seconds. Place your hands by your sides or underneath your glutes and keep your legs straight or just slightly bent. Raise your legs until your body is in an L shape. Pause, lower both legs slowly and then return to the starting position. Repeat for 45 seconds.
6. Wood chop: 20 seconds + 20 seconds. Stand up with your feet shoulder-width apart and hold a dumbbell with both hands. Rotate your torso to the right and raise the dumbbell until it's over the right shoulder. Squat as you rotate your torso to the left and bring the dumbbell diagonally across the body until it's close to your left hip. Repeat for 20 seconds and then switch sides.
Workout Video
Workout Routine Interval Timer
Music Playlist
Calorie Calculator
Enter your weight to find out how many calories you can burn doing this 10-minute tummy tuck workout:
The secret to burning calories and ultimately losing weight is to maximize the efficiency of your energy systems. This 20-Minute Metabolism …
Work your legs and booty from all angles with this 29-minute bodyweight workout. A lower body and cardio routine that will help you sculpt long and lean muscles and burn off body fat …
Flatten your abs and blast calories with these 10 moves! A belly fat burner workout to tone up your tummy, strengthen your core, and …