This Wild Salmon & Vegetables Pie is an easy yet filling way to add this healthy fish into your diet. You can make this pie with your favorite vegetables or adapt the recipe to whatever vegetables are in season. And if you don't like salmon, you can replace it with other healthy fish species, such as tuna, cod, rainbow trout, Pacific halibut, or mackerel.
Salmon is a nutritious oily fish that offers several health benefits. It's rich in omega-3 fatty acids, making it very beneficial for heart health and cholesterol, and has a good amount of protein, vitamins, and minerals. Salmon is also an excellent vitamin B complex source, responsible for maintaining a healthy balance of all bodily functions. When buying, choose wild-caught salmon, which has more nutritional value than the farmed ones.
From the Shop
Wild Salmon & Vegetables Pie Recipe
Prep Time: 15 min | Cook Time: 40 min | Serves: 4
+ 1 cup small broccoli florets
+ 1 cup small cauliflower florets
+ 2 carrots, cut into small batons
+ 1 onion, sliced
+ 2 garlic cloves, minced
+ 1 tbsp olive oil
+ 1 tomato, thinly sliced
+ 10.5 oz (300 g) wild-caught salmon, cut into small cubes
+ 8 potatoes, cut into cubes
+ 1 tsp butter or ghee
+ 1 free-range egg, beaten
+ 1/4 tsp ground nutmeg
+ sea salt and freshly ground black pepper, to taste

Preheat oven to 350ºF / 180ºC. Place the carrots, broccoli, and cauliflower in a steamer basket. Steam the vegetables until slightly tender but still with a little crunch, 5 to 6 minutes.
Heat the olive oil in a frying pan, add the onion and cook until softened, then add the garlics and cook until fragrant, but not browned. Stir in the tomato, season with salt and pepper, and let cook for about 2 minutes until all the liquid evaporates. Add the salmon and mix well until it shreds, then stir in carrots, broccoli, and cauliflower and saute for 2-3 minutes over medium heat. Set aside.
Meanwhile, boil the potatoes for 10-15 mins until tender. Drain, then place back in the saucepan and mash. Add the butter and season with nutmeg, salt, and pepper.
In a baking dish, arrange a layer of mashed potatoes, then add the salmon-vegetables mixture and cover with the remaining purée. Brush with the egg and bake for about 25 minutes, until golden. Remove from oven, sprinkle fresh herbs on top, and serve with a green salad. Enjoy!
| | | | |
| --- | --- | --- | --- |
| calories | carbs | fat | protein |
| 489 | 76.5 g | 10.8 g | 25 g |
| | |
| --- | --- |
| calories | 489 |
| carbs | 76.5 g |
| fat | 10.8 g |
| protein | 25 g |
Baked avocado boats with eggs and smoked salmon are a match made in brunch heaven! Not only is this recipe healthy, but it is also gluten-free …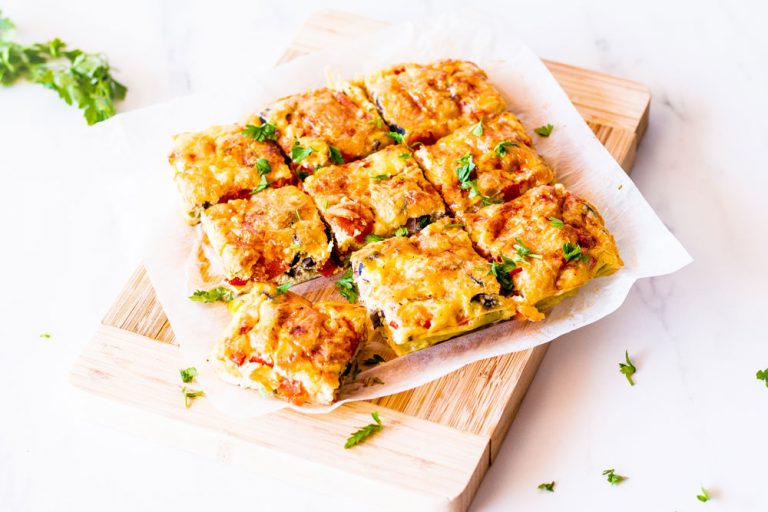 Delicious hot or cold, this easy 30-Minute Baked Egg Frittata with veggies is an efficient way to turn leftover ingredients into …
This garlic shrimp in tomato sauce with cauliflower mash is a low carb, easy to make recipe, that's packed full of flavor! Cauliflower mash …