Breakfast is the most important meal of the day, and if you get breakfast right, you'll set the tone for the whole day. Preparing a nourishing breakfast bowl is easy and fast. All you need is a few cupboard staples, and in 5 minutes, you'll have a delicious filling meal that nourishes the body, improves cognitive function, and even boosts your metabolism.
By eating a healthy breakfast, you'll be less likely to reach for junk foods later in the day, and you're also sending a message to yourself that you respect your body and that you deserve to enjoy a good and life.
The ideal Breakfast Bowl should include probiotic and prebiotic foods to keep your gut healthy. It should also contain protein, healthy fats and fiber, to help you feel fuller longer, balance blood sugar, and regulate hormones. And it's important to also add good sources of micronutrients, phytonutrients, and enzymes, essential for the proper performance of all body functions and general well-being.
From the Shop
Warming Oatmeal Breakfast Bowl Recipe
Prep Time: 5 min | Cook Time: 5 min | Serves: 2
+ 1/2 cup water
+ 1/4 cup old-fashioned rolled oats
+ 1/2 tsp cinnamon, superfood metabolism blend, pumpkin pie spice or your favorite spice blend
+ 1 cup kefir (DIY recipe here)
+ 1 kiwi fruit, peeled and sliced
+ 1/2 apple, sliced
+ 1 banana, peeled and sliced
+ 1 tbsp pomegranate seeds
+ 1-2 tbsp walnuts, roughly chopped and toasted
+ 1 tsp sunflower seeds, toasted

To make the oatmeal: Pour the oats and water into a small saucepan and season with cinnamon or your favorite spice blend. Stir on medium-low heat until the porridge has reached your desired consistency, about 3-5 minutes.
Let the oats cool down until warm but not hot, then mix in kefir. Spoon into 2 serving bowls and top with sliced kiwi, apple, banana, pomegranate seeds, walnuts, and sunflower seeds. Enjoy!
| | | | |
| --- | --- | --- | --- |
| calories | carbs | fat | protein |
| 268 | 48.9 g | 6.3 g | 8 g |
| | |
| --- | --- |
| calories | 263 |
| carbs | 48.9 g |
| fat | 6.3 g |
| protein | 8 g |
Baked avocado boats with eggs and smoked salmon are a match made in brunch heaven! Not only is this recipe healthy, but it is also gluten-free …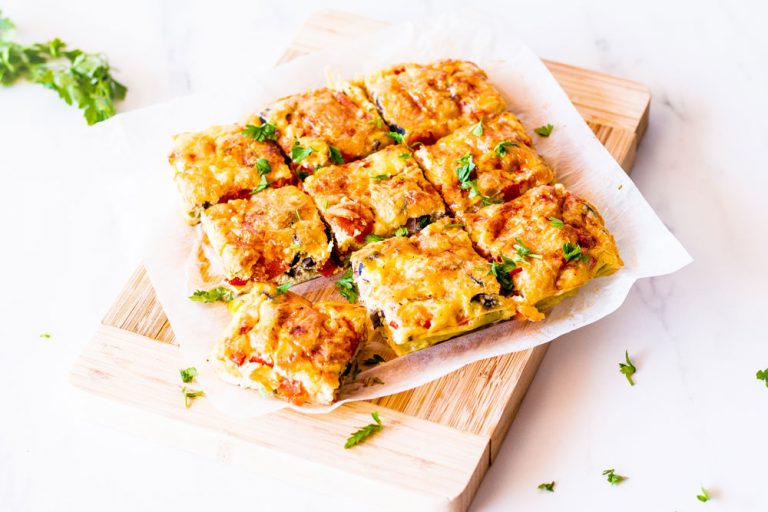 Delicious hot or cold, this easy 30-Minute Baked Egg Frittata with veggies is an efficient way to turn leftover ingredients into …
This garlic shrimp in tomato sauce with cauliflower mash is a low carb, easy to make recipe, that's packed full of flavor! Cauliflower mash …