When the weather gets chilly, we start craving comfort foods, which are notorious diet derailers, usually high in calories and saturated fat. But it doesn't have to be like that! This one-pot veggie-packed hearty chili is the ideal comfort food for those cold nights and, with only 273 calories and 13.6 g of protein per serving, it won't ruin your diet!
And since we're almost entering flu season, we packed this chili recipe with plenty of flu-fighting ingredients. The homemade broth helps prevent dehydration, relieves congestion, and soothes a sore throat; garlic, spinach, and tomatoes are natural immunity boosters and help strengthen your body against the flu virus.
From the Shop
Veggie-Packed Hearty Chili Recipe
Prep Time: 30 min | Cook Time: 40 min | Serves: 4
+ 3 cups pinto beans, cooked (learn here how to soak and cook beans and legumes)
+ 1 cup pumpkin, chopped into small cubes
+ 2 carrots, chopped into cubs
+ 1 small sweet potato, chopped into small cubes
+ 2 cups spinach
+ 1 onion, thinly sliced
+ 2 garlic cloves, minced
+ 1 tbsp olive oil
+ 2 bay leaves
+ 1 tsp Mexican spice mix (DIY recipe here)
+ 1/2 tsp smoked paprika
+ 1 tsp cumin
+ 1/2 cup homemade vegetable stock
+ 1 cup organic canned tomatoes
+ sea salt and black pepper to taste
Chop the vegetables and heat the olive oil in a large skillet over medium-high heat. Add the onion, garlic, and bay leaves and let cook for 2 to 3 minutes.
Tip in the Mexican spice mix, smoked paprika, and cumin and let cook for one more minute. Then add the pumpkin, carrots, and sweet potato and let cook for 2 more minutes.
Stir in beans, tomatoes, and vegetable stock into the chili pot, season with sea salt and pepper, and bring to a boil. Reduce to a simmer, give it a good stir, then leave it to cook for another 30 minutes, stirring occasionally.
Mix in spinach, let cook for another 1-2 minutes, and then remove from heat. Serve the chili with homemade spelt tortillas or buckwheat wraps and enjoy!
| | | | |
| --- | --- | --- | --- |
| calories | carbs | fat | protein |
| 273 | 47.2 g | 4.8 g | 13.6 g |
| | |
| --- | --- |
| calories | 273 |
| carbs | 47.2 g |
| fat | 4.8 g |
| protein | 13.6 g |
Baked avocado boats with eggs and smoked salmon are a match made in brunch heaven! Not only is this recipe healthy, but it is also gluten-free …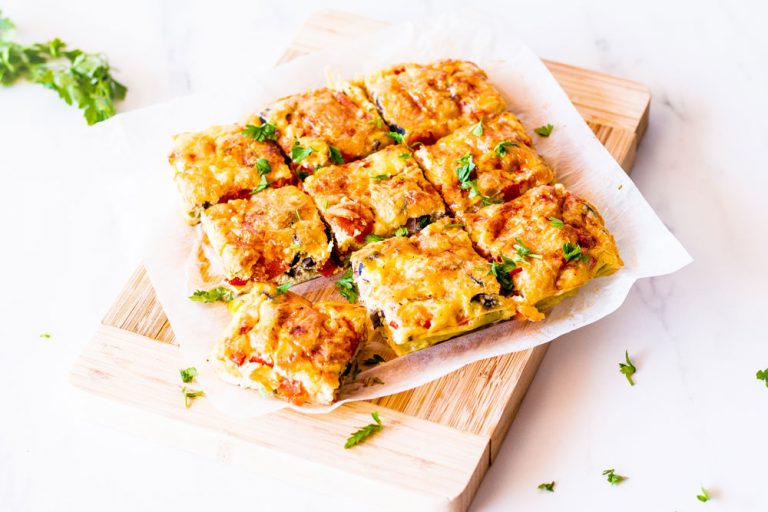 Delicious hot or cold, this easy 30-Minute Baked Egg Frittata with veggies is an efficient way to turn leftover ingredients into …
This garlic shrimp in tomato sauce with cauliflower mash is a low carb, easy to make recipe, that's packed full of flavor! Cauliflower mash …