Moussaka is a traditional Greek recipe made with layers of eggplant slices, cheese, and a meat sauce, topped with a thick béchamel sauce. This vegetarian lentil and eggplant moussaka is a healthier version of this traditional dish, with tons of flavor and rich in protein, vitamins A and B complex, folic acid, and omega-3 and omega-6 fatty acids.
We kept the eggplant layers and replaced the cheese and béchamel sauce with a low-calorie, gluten-free, and lactose-free vegan alternative. The meat sauce was also replaced with a hearty lentil stew. If you want to boost the protein content of this recipe, you can replace the lentils with our plant-based loaf or, if you're not a vegetarian, replace the lentils with beef or lamb mince.
Vegetarian Lentil & Eggplant Moussaka Recipe
Prep Time: 10 min | Cook Time: 40 min | Serves: 6
Grilled zucchini and eggplant:
+ 2 eggplants, cut into round slices
+ 1 zucchini, cut into round slices
+ 1 tbsp olive oil
+ 1/2 tsp homemade Cajun spice mix
+ sea salt, to taste

Lentil stew:
+ 2 cups red lentils, cooked (learn here how to soak and cook beans and legumes)
+ 1 onion, diced
+ 4 garlic cloves, minced
+ 4 ripe tomatoes, diced
+ 1/2 green pepper, diced
+ 1 tbsp olive oil
+ 2 tsp oregano
+ 1 tsp cumin
+ 1/4 tsp paprika
+ 4 tbsp homemade vegetable stock
+ sea salt and freshly ground black pepper, to taste

Sauce:
+ 1 cup milk of choice
+ 3 tbsp arrowroot powder
+ 1 tbsp nutritional yeast
+ 2 tbsp homemade tomato sauce
+ sea salt, to taste

From the Shop
Grilled zucchini and eggplant: Preheat a grill pan over a medium-high burner until it's very hot. Brush zucchini and eggplant slices with 1 tablespoon olive oil and season with Cajun seasoning and sea salt. Cook zucchini first on the preheated grill until beginning to brown, 3-4 minutes per side. Then place eggplant slices on grill, and cook until browned, 5-6 minutes on each side.
Lentil stew: Heat olive oil in a large skillet over medium-high heat. Add onions and garlic and let cook until fragrant, about 1 minute. Stir in diced tomatoes, green pepper, and cooked lentils and season with cumin, oregano, paprika, sea salt, and black pepper to taste. Add vegetable stock and let simmer until all the water has evaporated (about 3-5 minutes).
Sauce: In a medium bowl, mix arrowroot powder, nutritional yeast, tomato sauce and whisk until smooth. Add in warm milk, season with sea salt, and mix until blended.
Preheat oven to 400ºF / 200ºC. Place 1/2 eggplant slices at the bottom of a baking dish, spoon lentil stew on top, cover with zucchini slices, then add 1/2 sauce. Layer the remaining eggplant slices and finish with the remaining sauce. Place in the oven and cook for 20-25 minutes. Once cooked, drizzle olive oil on top of the moussaka and serve with a green salad. Enjoy!
| | | | |
| --- | --- | --- | --- |
| calories | carbs | fat | protein |
| 316 | 38.9 g | 15.3 g | 11.6 g |
| | |
| --- | --- |
| calories | 316 |
| carbs | 38.9 g |
| fat | 15.3 g |
| protein | 11.6 g |
Baked avocado boats with eggs and smoked salmon are a match made in brunch heaven! Not only is this recipe healthy, but it is also gluten-free …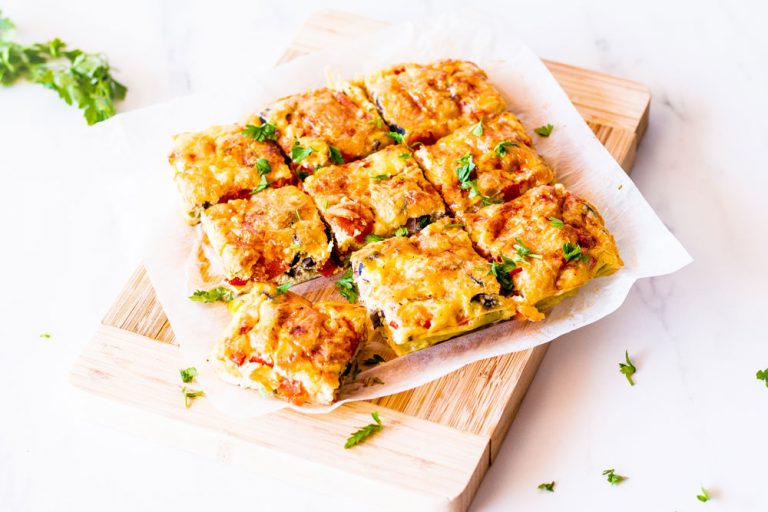 Delicious hot or cold, this easy 30-Minute Baked Egg Frittata with veggies is an efficient way to turn leftover ingredients into …
This garlic shrimp in tomato sauce with cauliflower mash is a low carb, easy to make recipe, that's packed full of flavor! Cauliflower mash …