For us, a savory breakfast toast is a perfect way to start the day! And these Tomato, Mozzarella & Eggplant Breakfast Toasts are loaded with good-for-you ingredients and Mediterranean flavors. They're healthy, nutritious, and a super satisfying breakfast!
Eggplants provide fiber and are a great source of vitamins and minerals, tomatoes are rich in antioxidants and phytonutrients, and mozzarella is high in calcium, vitamin B12, and protein. Everything you need for a perfect start to the day!
From the Shop
Tomato, Mozzarella & Eggplant Breakfast Toasts Recipe
Prep Time: 10 min | Cook Time: 15 min | Serves: 4
+ 8 slices whole-grain bread (DIY recipe here)
+ 1 garlic clove, peeled
+ 4 tbsp olive oil
+ 1 eggplant, thinly sliced
+ pinch of sea salt
+ 4 oz (115gr) mozzarella cheese, shredded
+ 2 medium ripe tomatoes, thinly sliced
+ 1 tbsp parmesan cheese, grated
+ fresh basil leaves, for garnish

Preheat a grill pan over a medium burner until it's hot. Grill bread for 5 minutes, turning once. Rub bread slices with garlic and drizzle with 2 tablespoons of olive oil.
Brush eggplant with remaining olive oil and season with sea salt. Grill eggplant for 5-6 minutes until tender, turn slices over, and top with mozzarella. Grill until cheese melts.
To assemble, top grilled bread with tomato slices, layer with eggplant, and sprinkle parmesan cheese on top. Garnish with basil and enjoy!
| | | | |
| --- | --- | --- | --- |
| calories | carbs | fat | protein |
| 400 | 38.6 g | 22.7 g | 14.8 g |
| | |
| --- | --- |
| calories | 400 |
| carbs | 38.6 g |
| fat | 22.7 g |
| protein | 14.8 g |
Baked avocado boats with eggs and smoked salmon are a match made in brunch heaven! Not only is this recipe healthy, but it is also gluten-free …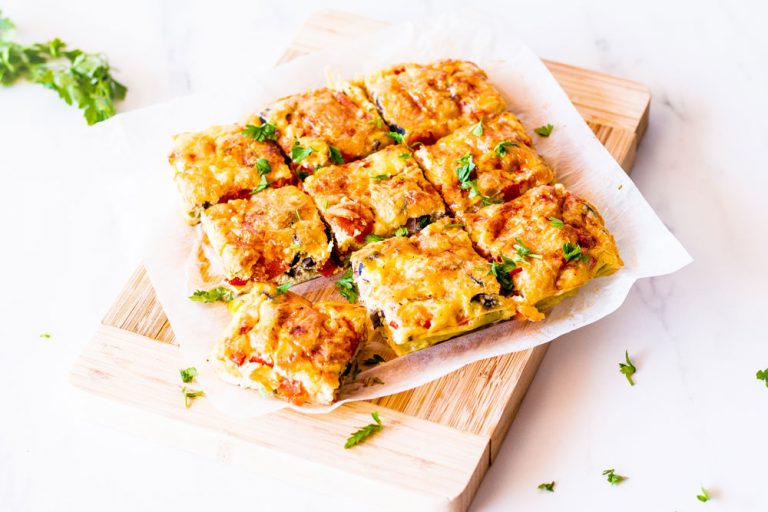 Delicious hot or cold, this easy 30-Minute Baked Egg Frittata with veggies is an efficient way to turn leftover ingredients into …
This garlic shrimp in tomato sauce with cauliflower mash is a low carb, easy to make recipe, that's packed full of flavor! Cauliflower mash …