This Thai Chicken Coconut Curry is an easy one-pot dish made with tender chicken and vegetables in a delicious coconut curry sauce. Low-cal, low-carb, flavorful, and ready in just 20 minutes!
The spices in this recipe are not only delicious but also good for you. Turmeric can help boost your memory and reduce inflammation, chili helps with pain relief and boosts metabolism, and ginger relieves nausea, arthritis and is generally soothing.
From the Shop
Thai Chicken Coconut Curry Recipe
Prep Time: 5 min | Cook Time: 20 min | Serves: 3
+ 2 tbsp coconut oil
+ 1 onion, chopped
+ 1 pound (450 gr) boneless skinless chicken breast, cubed
+ 3 garlic cloves, minced
+ 1 tbsp fresh ginger, peeled and grated
+ 1 red bell pepper, thinly sliced
+ 1/2 cup coconut milk
+ 1/2 cup water or homemade vegetable stock
+ 1 tbsp garam masala (homemade recipe here)
+ sea salt and freshly ground black pepper, to taste
+ 3 cups fresh spinach leaves
+ 1 tbsp lime juice

For serving
+ fresh cilantro
+ cooked rice

Melt the coconut oil in a large skillet, add onion and sauté over medium-high heat until it begins to soften. Add the chicken and sear on both sides until golden brown. Add the garlic, ginger, bell pepper, and cook for about 1 minute, or until fragrant; stir frequently.
Add the coconut milk, vegetable stock, and season with garam masala, salt, and pepper. Stir to combine, let boil, then reduce the heat to medium, and allow the mixture to gently boil for about 5 minutes, or until the liquid thickens.
Add the spinach, lime juice, and stir to combine. Cook until spinach has wilted, for about 1 to 2 minutes.
Sprinkle with cilantro and serve with rice and pita bread. Enjoy!
| | | | |
| --- | --- | --- | --- |
| calories | carbs | fat | protein |
| 289 | 9 g | 17 g | 25.9 g |
| | |
| --- | --- |
| calories | 289 |
| carbs | 9 g |
| fat | 17 g |
| protein | 25.9 g |
Baked avocado boats with eggs and smoked salmon are a match made in brunch heaven! Not only is this recipe healthy, but it is also gluten-free …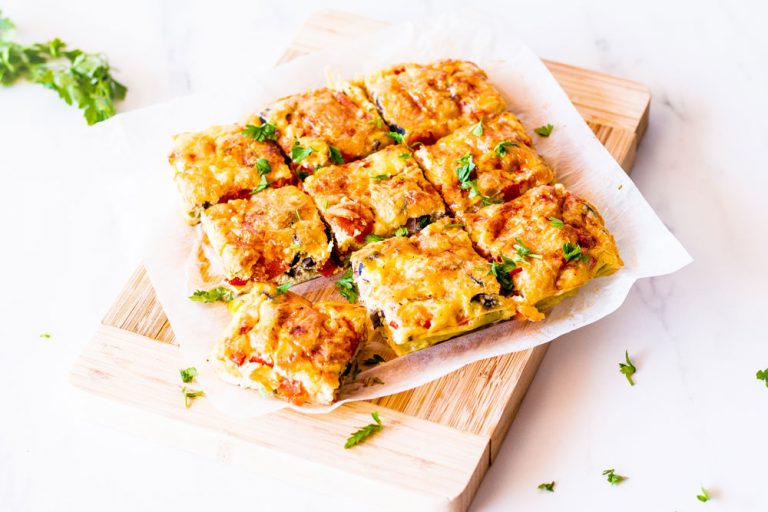 Delicious hot or cold, this easy 30-Minute Baked Egg Frittata with veggies is an efficient way to turn leftover ingredients into …
This garlic shrimp in tomato sauce with cauliflower mash is a low carb, easy to make recipe, that's packed full of flavor! Cauliflower mash …