This 5-ingredient sweet potato salad with broccolini, arugula & feta cheese is deliciously filling, easy to make and you're going to love it! Sweet potatoes are highly nutritious and are rich in vitamins, minerals, antioxidants, and fiber. They're sweet, starchy, promote the growth of good gut bacteria, and contribute to a healthy gut.
The creaminess of the sweet potatoes pairs really well with the crispy broccolini. Arugula provides important phytonutrients, vitamins, minerals and helps fill you up. And feta adds flavor, protein, and fat to this fresh and yummy salad.
From the Shop
Sweet Potato Salad with Broccolini, Arugula & Feta Cheese Recipe
Prep Time: 10 min | Cook Time: 50 min | Serves: 2
+ 1 big sweet potato, scrubbed clean
+ 3.5 oz (100 g) feta cheese, crumbled
+ 12 cherry tomatoes, cut in quarters
+ 2 cups arugula
+ 7 oz (200 g) broccolini (steamed for 4 minutes)
+ 1 recipe lemon Dijon vinaigrette

Pre-heat oven to 400ºF / 200ºC. Place the sweet potato on a lined baking pan and cook in the oven for 45-50 minutes, until tender. Remove the potato from the oven, allow it to cool, then slice into small cubes. Arrange all the salad ingredients on a serving plater, drizzle lemon Dijon vinaigrette on top and enjoy!
| | | | |
| --- | --- | --- | --- |
| calories | carbs | fat | protein |
| 455 | 32.4 g | 32.3 g | 13.8 g |
| | |
| --- | --- |
| calories | 455 |
| carbs | 32.4 g |
| fat | 32.3 g |
| protein | 13.8 g |
Baked avocado boats with eggs and smoked salmon are a match made in brunch heaven! Not only is this recipe healthy, but it is also gluten-free …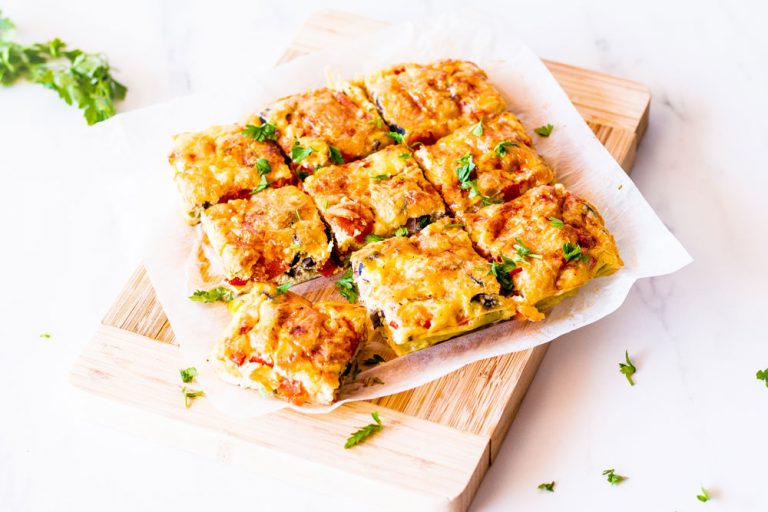 Delicious hot or cold, this easy 30-Minute Baked Egg Frittata with veggies is an efficient way to turn leftover ingredients into …
This garlic shrimp in tomato sauce with cauliflower mash is a low carb, easy to make recipe, that's packed full of flavor! Cauliflower mash …