Gluten-free and vegetarian, these sweet potato red bean veggie burgers are super tasty and easy to make! Veggie burgers go well with a variety of toppings, they can be grilled or cooked in the oven, and you can add different spices such as cumin, turmeric, curry, and aromatic herbs for added flavor.
Veggie burgers are extremely versatile and healthy. Just start with your favorite seasonal vegetables as a base, add legumes and whole grains to give texture, mix in seeds and nuts for a healthy dose of fats, and finish with eggs or egg substitutes to keep everything together. Yum!
From the Shop
Sweet Potato & Red Bean Veggie Burgers Recipe
Prep Time: 20 min | Cook Time: 60 min | Yields: 7 burgers
Veggie burgers
+ 1 medium sweet potato, peeled and cut into cubes
+ 1 cup red beans, cooked (learn here how to cook and soak beans and legumes)
+ 1/2 cup rice flour
+ 1 tbsp olive oil
+ 1 egg
+ 2 garlic cloves, minced
+ 1 onion, finely diced
+ 2 tbsp flaxseed meal
+ 2 tsp lemon juice
+ sea salt and freshly ground black pepper, to taste

Avocado dressing
+ 1 ripe avocado
+ 2 tbsp tahini
+ 3 tbsp lime juice
+ 1 garlic clove
+ pinch of sea salt

For serving
+ whole grain buns
+ tomato slices
+ 1 bunch fresh parsley, finely chopped

To make the veggie burgers: Preheat oven to 350ºF / 175ºC. Place the sweet potato cubes on a lined baking sheet, drizzle 1/2 tbsp olive oil on top, and roast for 30 minutes.
Once cooled, mash the sweet potatoes and transfer to a large mixing bowl. Add all the remaining burger ingredients and stir to combine. If the texture is too mushy, add more flour.
Shape the burgers with your hands and place them on a lined baking sheet. Bake in the oven for 15 minutes on one side, then flip over and bake for 15 more minutes.
To make the dressing: Place all the ingredients in a food processor or blender and process until creamy.
Cut the bun in halves, assemble the burgers and serve. Enjoy!
| | | | |
| --- | --- | --- | --- |
| calories | carbs | fat | protein |
| 133 | 20.6 g | 3.6 g | 4.6 g |
| | |
| --- | --- |
| calories | 133 |
| carbs | 20.6 g |
| fat | 3.6 g |
| protein | 4.6 g |
Baked avocado boats with eggs and smoked salmon are a match made in brunch heaven! Not only is this recipe healthy, but it is also gluten-free …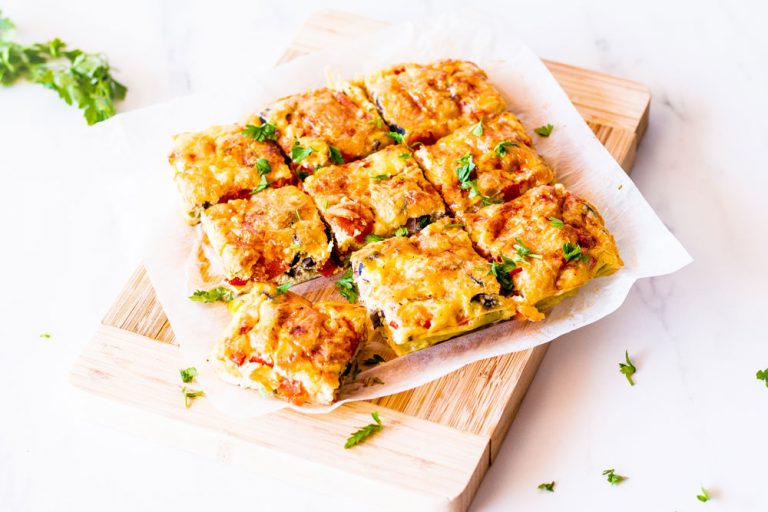 Delicious hot or cold, this easy 30-Minute Baked Egg Frittata with veggies is an efficient way to turn leftover ingredients into …
This garlic shrimp in tomato sauce with cauliflower mash is a low carb, easy to make recipe, that's packed full of flavor! Cauliflower mash …