This Sun-Dried Tomato & Olives Cornbread is our take on the traditional cornbread recipe. It's refined-sugar-free, healthy, high in fiber, and pairs well with roasted veggies, a hearty chili, or a bowl of spicy soup.
There's a lot of room to play with this recipe. We added olives, sun-dried tomatoes, and three dried herbs to get a Mediterranean flavor, but you can either skip these five ingredients or replace them with others, to make this recipe your own!
From the Shop
Sun-Dried Tomato & Olives Cornbread Recipe
Prep Time: 5 min | Cook Time: 20 min | Yields: 9 squares
+ 1 1/4 cups corn flour
+ 1/2 cup whole wheat flour
+ 1 1/2 tsp baking powder
+ 1/4 tsp sea salt
+ 1 tsp dried oregano
+ 1/2 tsp dried basil
+ 1/2 tsp dried thyme
+ 1 egg
+ 1 tbsp olive oil
+ 1/2 cup Greek yogurt
+ 2 tbsp honey
+ 1/4 cup whole milk
+ 8-10 black olives, thinly sliced
+ 3 sun-dried tomatoes, thinly sliced (homemade recipe here)

Preheat oven to 350ºF / 180ºC and lightly grease a square roasting pan.
In a medium bowl, whisk together corn flour, wheat flour, baking powder, salt, oregano, basil, and thyme.
Crack the egg into another bowl, add olive oil, yogurt, honey, and milk and whisk well. Stir the flour mixture into the egg mixture until incorporated, then add olives, tomatoes, and mix well.
Pour the dough into the pan and place it in the oven. Bake for about 20 minutes, or until the top is golden and the center is set.
Remove from oven, let cool for 10 minutes, then cut into pieces. Enjoy!
| | | | |
| --- | --- | --- | --- |
| calories | carbs | fat | protein |
| 161 | 26.6 g | 5 g | 4.2 g |
| | |
| --- | --- |
| calories | 161 |
| carbs | 26.6 g |
| fat | 5 g |
| protein | 4.2 g |
Baked avocado boats with eggs and smoked salmon are a match made in brunch heaven! Not only is this recipe healthy, but it is also gluten-free …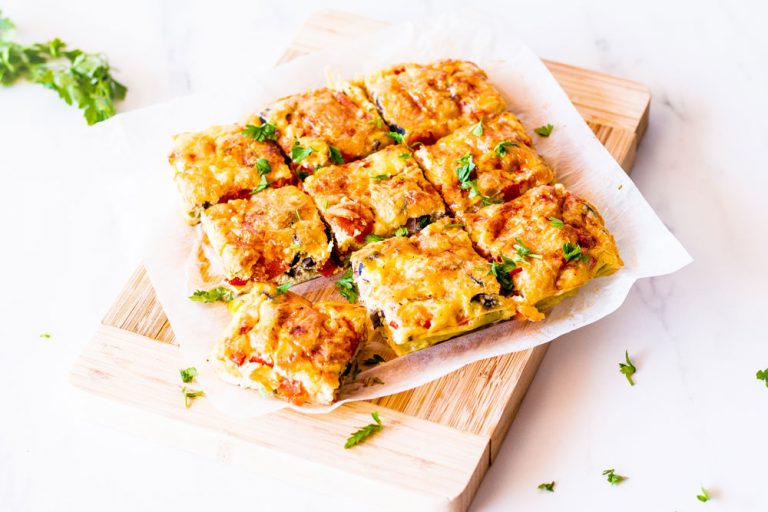 Delicious hot or cold, this easy 30-Minute Baked Egg Frittata with veggies is an efficient way to turn leftover ingredients into …
This garlic shrimp in tomato sauce with cauliflower mash is a low carb, easy to make recipe, that's packed full of flavor! Cauliflower mash …