This Spicy Chickpea, Tomato & Bell Pepper Toast is a crunchier alternative to the quintessential hummus toast. It's tasty, comforting, easy to eat on the couch, and perfect to snack on!
This recipe works well for brunch or dinner and the spices used are rich in capsaicin, a phytochemical that enhances energy expenditure while boosting fat oxidation and diminishing appetite. This dish is also rich in the non-spicy analog of capsaicin, capsiate, which is also beneficial for weight control.
From the Shop
Spicy Chickpea, Tomato & Bell Pepper Toast Recipe
Prep Time: 5 min | Cook Time: 25 min | Serves: 2
+ 2 tbsp olive oil
+ 1 onion, chopped
+ 3 garlic cloves, minced
+ 1 bell pepper, chopped
+ 1 cup whole peeled tomatoes
+ 1 cup chickpeas, cooked (learn here how to soak and cook beans and legumes)
+ 2 tsp coconut sugar
+ 1 tsp sweet paprika
+ 1 tsp chili powder
+ 1/2 tsp ground cumin
+ 1/4 tsp ground coriander
+ 1/4 tsp cayenne pepper
+ sea salt, to taste

For serving
+ lemon wedges
+ fresh parsley, chopped
+ whole-grain bread, toasted

Heat the olive oil in a large skillet, then add onions, peppers, garlic, and sauté for 4-5 minutes over medium heat, stirring frequently.
Add tomatoes, sugar, salt, paprika, chili powder, cumin, coriander, cayenne pepper, and stir to combine. Bring to a simmer and cook for 2-3 more minutes. Add chickpeas, stir to combine, then reduce heat and simmer for 15-20 minutes, stirring occasionally.
Serve with toasted bread slices and garnish with fresh lemon juice and parsley. Enjoy!
| | | | |
| --- | --- | --- | --- |
| calories | carbs | fat | protein |
| 334 | 43.7 g | 15.6 g | 8 g |
| | |
| --- | --- |
| calories | 334 |
| carbs | 43.7 g |
| fat | 15.6 g |
| protein | 8 g |
Baked avocado boats with eggs and smoked salmon are a match made in brunch heaven! Not only is this recipe healthy, but it is also gluten-free …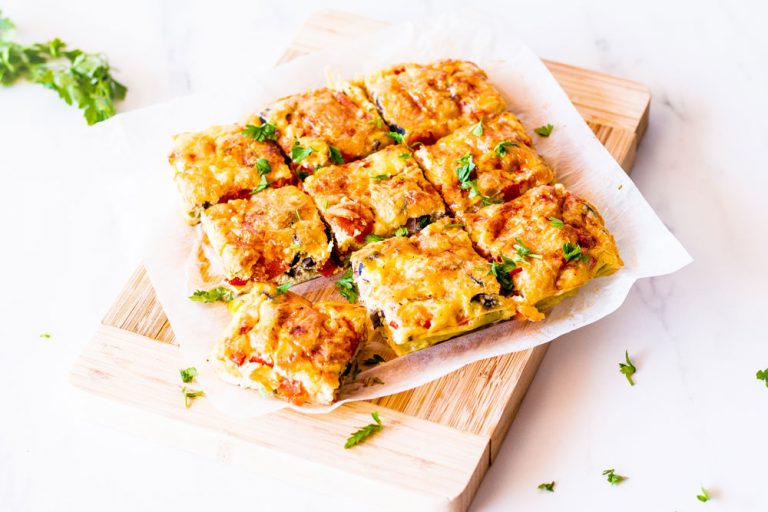 Delicious hot or cold, this easy 30-Minute Baked Egg Frittata with veggies is an efficient way to turn leftover ingredients into …
This garlic shrimp in tomato sauce with cauliflower mash is a low carb, easy to make recipe, that's packed full of flavor! Cauliflower mash …