Corn on the cob season is here, and this Simple Corn Soup with Fresh Herbs is the perfect summer soup! This recipe features the season's freshest corn, is ready in just 15 minutes, and can be served hot or cold.
Fresh corn is rich in Vitamin B12, folic acid, and iron, which helps our bodies produce red blood cells and reduces the risk of anemia. Corn is also a good source of antioxidants and essential minerals such as zinc, magnesium, copper, iron, and manganese.
From the Shop
Simple Corn Soup With Fresh Herbs Recipe
Prep Time: 5 min | Cook Time: 15 min | Serves: 2
+ 1 tbsp ghee or butter
+ 1 shallot, finely chopped
+ 2-3 sprigs fresh thyme
+ sea salt and freshly ground black pepper, to taste
+ 2 ears fresh corn
+ 3 cups homemade vegetable stock
+ fresh basil, to garnish
+ fresh thyme, to garnish

Use a knife to cut the kernels off of the cobs.
Melt ghee in a stockpot over medium heat. Add shallot, thyme, season with salt and pepper, and cook until shallot is translucent about 5 minutes. Stir in corn kernels, corn cobs, and vegetable stock. Bring to a boil, reduce heat, and simmer, covered, for 10 minutes.
Remove the corn cobs and thyme sprigs from the pot and discard. Purée the soup until very smooth, using an immersion blender, and adjust seasonings.
Ladle the soup into bowls and garnish with fresh basil and thyme. Serve hot or cold. Enjoy!
| | | | |
| --- | --- | --- | --- |
| calories | carbs | fat | protein |
| 220 | 35.2 g | 8.5 g | 6.7 g |
| | |
| --- | --- |
| calories | 220 |
| carbs | 35.2 g |
| fat | 8.5 g |
| protein | 6.7 g |
Baked avocado boats with eggs and smoked salmon are a match made in brunch heaven! Not only is this recipe healthy, but it is also gluten-free …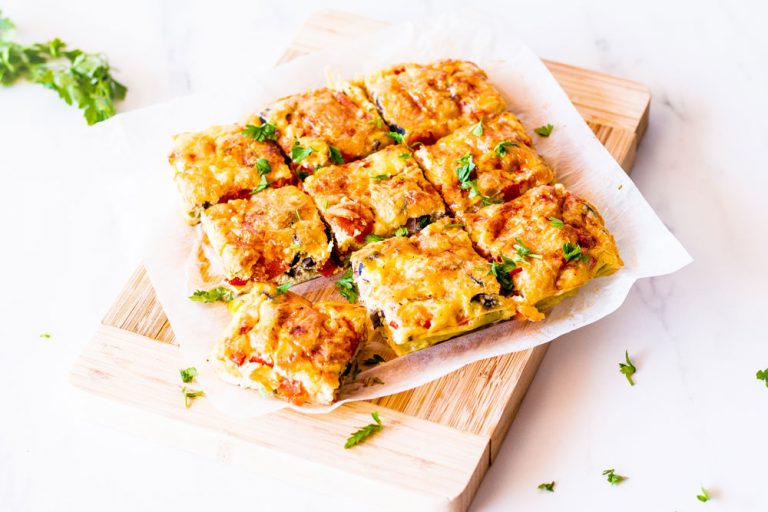 Delicious hot or cold, this easy 30-Minute Baked Egg Frittata with veggies is an efficient way to turn leftover ingredients into …
This garlic shrimp in tomato sauce with cauliflower mash is a low carb, easy to make recipe, that's packed full of flavor! Cauliflower mash …