These shrimp summer rolls with sriracha dipping sauce are a good source of dietary fiber and have low fat and calorie content, making them the ideal meal to help you shed excess weight and leave you feeling full for longer.
Vegetables play a vital role in our diets by providing our cells with vitamins, minerals, fiber, essential oils, and phytonutrients. While eating cooked vegetables is healthy for you, it's also important to eat raw vegetables often because they contain higher amounts of antioxidants, vitamins C and E, folic acid, lycopene, alpha-carotene, and beta-carotene.
From the Shop
Shrimp Summer Rolls With Sriracha Dipping Sauce Recipe
Prep Time: 15 min | Cook Time: 3 min | Yields: 18 shrimp rolls
+ 9 medium shrimps
+ 18 small rice paper wrappers
+ 1 cup fresh spinach
+ 1/2 carrot
+ 1 small cucumber
+ 1/2 red bell pepper
+ 1/2 green bell pepper
+ 1 batch homemade sriracha tamari dipping sauce

Cook the shrimps in boiling salted water for 2-3 minutes. Drain and rinse under cold water for 30 seconds to 1 minute, peel and devein the shrimps and cut them in half. Cut the carrot, cucumber, and bell peppers into thin matchsticks and wash the spinach leaves.
Fill a shallow bowl with warm water and briefly submerge one rice paper wrapper in the water for 20 to 30 seconds, or until softened and pliable. Transfer the wrapper to a clean, dry surface and place 4-5 spinach leaves, a few pieces of carrot, cucumber, bell pepper, and 1/2 shrimp in the center. Fold the bottom half of the wrapper over the filling, pressing down, then fold the sides of the wrapper towards the center, tucking in the filling. Roll the entire wrapper up and repeat with the remaining wrappers and filling.
Serve with the sriracha tamari dipping sauce on the side. Enjoy!
| | | | |
| --- | --- | --- | --- |
| calories | carbs | fat | protein |
| 44 | 4.6 g | 0.4 g | 3.1 g |
| | |
| --- | --- |
| calories | 44 |
| carbs | 4.6 g |
| fat | 0.4 g |
| protein | 3.1 g |
Baked avocado boats with eggs and smoked salmon are a match made in brunch heaven! Not only is this recipe healthy, but it is also gluten-free …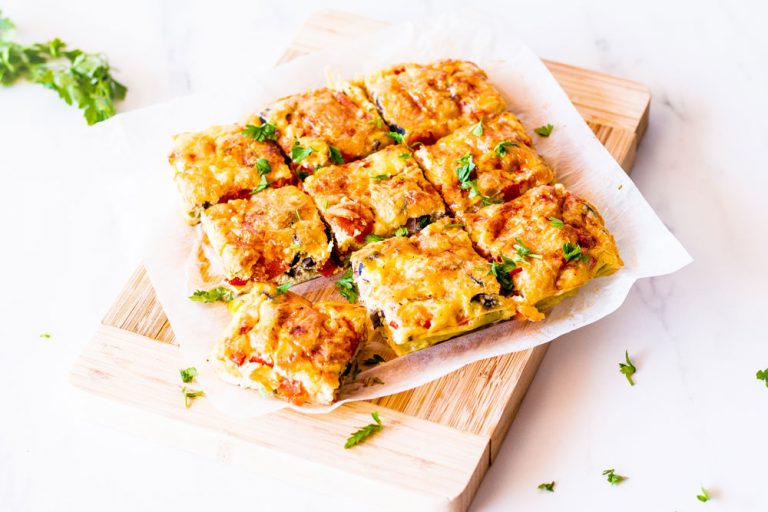 Delicious hot or cold, this easy 30-Minute Baked Egg Frittata with veggies is an efficient way to turn leftover ingredients into …
This garlic shrimp in tomato sauce with cauliflower mash is a low carb, easy to make recipe, that's packed full of flavor! Cauliflower mash …