This Sauteed Garlic Shrimp with Asparagus recipe is perfect for a healthy, quick, and delicious dinner! It's packed with vitamins, minerals, protein, and fiber, and it's going to become your new favorite seafood dish!
Asparagus is a low-calorie, nutrient-packed vegetable, that's a very good source of fiber, folate, vitamins A, C, and K. This health-promoting veggie contains lots of amazing soluble and insoluble fiber, making it a good choice if you're trying to lose weight. In this recipe, we paired asparagus with shrimp, which packs a protein punch for very few calories.
From the Shop
Sauteed Garlic Shrimp with Asparagus Recipe
Prep Time: 5 min | Cook Time: 16 min | Serves: 2
+ 8 oz (225 g) medium peeled and deveined shrimps, from sustainable sources
+ 12 oz (340 g) asparagus, rinsed and trimmed
+ 2 tbsp butter
+ 4 garlic cloves, minced
+ 1/4 tsp red pepper flakes
+ 1/2 tsp onion powder
+ sea salt and freshly ground black pepper, to taste
+ juice of 1/2 lemon
+ freshly chopped parsley
+ lemon slices

Melt 1 tablespoon of butter in a large skillet over medium heat. Add half the minced garlic and asparagus, cover, and cook for 10 minutes, stirring occasionally. Set aside. In the same skillet, add the remaining butter and remaining garlic. Saute for 30 seconds, then add the shrimp and season with salt, pepper, red pepper flakes, and onion powder. Saute for 4 more minutes, until cooked.
Push the shrimp to one side and add asparagus back to the pan. Squeeze half of a lemon over the top and allow reheating for 1 to 2 minutes. Remove from heat and garnish with parsley and lemon slices. Enjoy!
| | | | |
| --- | --- | --- | --- |
| calories | carbs | fat | protein |
| 281 | 10.6 g | 13.8 g | 30 g |
| | |
| --- | --- |
| calories | 281 |
| carbs | 10.6 g |
| fat | 13.8 g |
| protein | 30 g |
Baked avocado boats with eggs and smoked salmon are a match made in brunch heaven! Not only is this recipe healthy, but it is also gluten-free …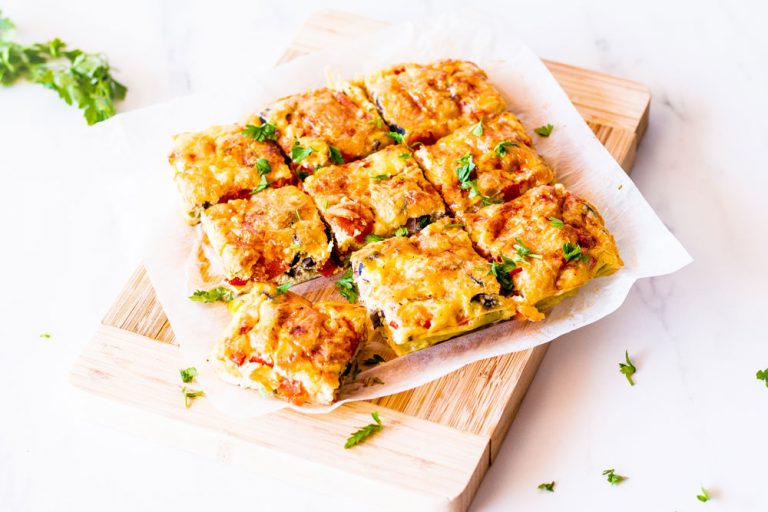 Delicious hot or cold, this easy 30-Minute Baked Egg Frittata with veggies is an efficient way to turn leftover ingredients into …
This garlic shrimp in tomato sauce with cauliflower mash is a low carb, easy to make recipe, that's packed full of flavor! Cauliflower mash …