Cozy up this autumn with this rustic vegetable & seafood soup. A hearty and nourishing soup recipe that is quick to impress and incredibly easy to make, featuring cabbage, seafood, and black beans. A perfect fall warmer!
Seafood is a nourishing food that is a superior source of various nutrients, including protein, amino acids, fiber, vitamins, and minerals. It contains unique omega-3 fatty acids, such as eicosapentaenoic acid and docosahexaenoic acid, which help prevent atherosclerosis and thrombosis.
When choosing fish, favor the wild caught and prefer smaller species. The smaller species contain lower levels of mercury. When choosing mollusks, favor the sustainably farmed.
From the Shop
Rustic Vegetable & Seafood Soup Recipe
Prep Time: 15 min | Cook Time: 35 min | Serves: 6
+ 5 medium potatoes, cubed
+ 1 tbsp ghee or butter
+ 1 shallot, thinly sliced
+ 1-2 leeks, thinly sliced
+ 3-4 sprigs fresh thyme
+ 2 bay leaves
+ 2-3 garlic cloves, minced
+ 2 tomatoes, diced
+ 1 red bell pepper, thinly sliced
+ 3 cups cabbage, shredded
+ 3 cups homemade vegetable stock
+ 1 cup black beans, cooked (learn here how to soak and cook beans and legumes)
+ 1 lb (450 g) seafood, assorted
+ sea salt and freshly ground black pepper, to taste
+ fresh herbs, to garnish
While you chop the veggies, cook the potatoes in gently boiling water until tender, about 15 minutes. Once done, blend potatoes using an immersion blender and set aside.
Meanwhile, melt ghee in a stockpot over medium heat. Add shallot, leek, thyme, bay leaves, and cook until shallot is translucent, about 5 minutes. Add the garlic, tomatoes, bell pepper, and cabbage and cook, stirring occasionally, for about 5 more minutes.
Stir in potato broth, vegetable stock, cooked beans, seafood, and season with salt and pepper. Bring soup to a simmer and cook, partly covered, for about 10 minutes.
Garnish soup with fresh herbs, serve and enjoy!
| | | | |
| --- | --- | --- | --- |
| calories | carbs | fat | protein |
| 294 | 47.2 g | 6.6 g | 15.9 g |
| | |
| --- | --- |
| calories | 294 |
| carbs | 47.2 g |
| fat | 6.6 g |
| protein | 15.9 g |
Baked avocado boats with eggs and smoked salmon are a match made in brunch heaven! Not only is this recipe healthy, but it is also gluten-free …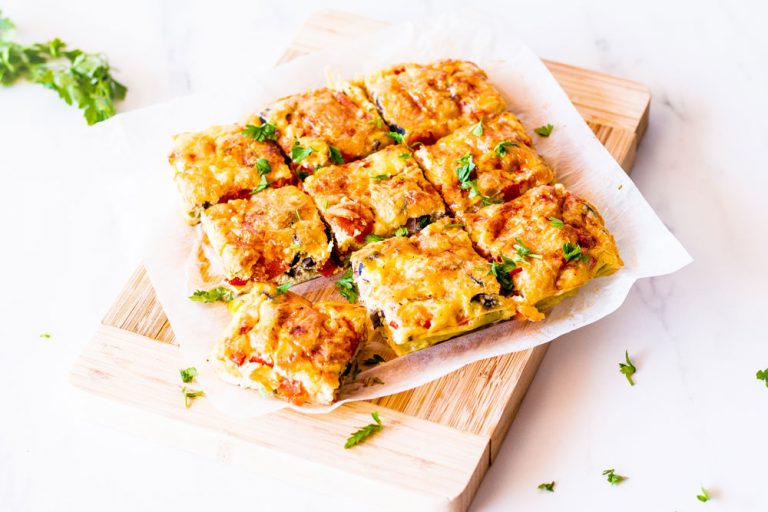 Delicious hot or cold, this easy 30-Minute Baked Egg Frittata with veggies is an efficient way to turn leftover ingredients into …
This garlic shrimp in tomato sauce with cauliflower mash is a low carb, easy to make recipe, that's packed full of flavor! Cauliflower mash …