This rustic tomato & scrambled eggs galette is an irresistibly crispy tart that goes perfectly alongside a big green salad. Everyone can make this or any other beautiful sweet or savory galettes at home. This staple of French cuisine is as simple as puff pastry dough wrapped around fresh fruit or fresh veggies.
This rich, filling galette is perfect for a weekend brunch and to enjoy on relaxed mornings and lazy weekends. For more galette recipe ideas, check our Tomato & Caramelized Onion Tart!
From the Shop
Rustic Tomato & Scrambled Eggs Galette Recipe
Prep Time: 15 min | Cook Time: 35 min | Serves: 4
Scrambled eggs
+ 2 eggs
+ 1 tsp butter or ghee
+ 1 tsp fresh chives, thinly sliced
+ sea salt and freshly ground black pepper, to taste

Galette
+ 1 sheet all-butter puff pastry
+ 1/2 cup cheddar cheese, coarsely grated
+ 2-3 heirloom tomatoes, thinly sliced
+ 1 egg, beaten
+ 1 tbsp fresh basil, plus more for serving
+ sea salt and freshly ground black pepper, to taste

To make the scrambled eggs: In a medium bowl, beat eggs, then add chives, salt, and pepper. Heat butter in a large frypan. Add eggs to the hot pan and cook, while stirring, over low heat until mixture is almost set.
To make the galette: Preheat oven to 400ºF / 200ºC. Arrange tomatoes on paper towels and lightly sprinkle with salt. Let sit for 10 minutes, then blot with paper towels. Lay the puff pastry on a piece of baking paper and top with cheese and basil, leaving a 2-inch (5 cm) border around the edge. Arrange the tomatoes on top and season with pepper. Brush the border of the pastry with the beaten egg and fold over the tomatoes creating a tart. Brush the tart edges with the remaining egg and sprinkle the scrambled eggs on top. Bake in the preheated oven for about 35 minutes. Serve with additional basil and enjoy!
| | | | |
| --- | --- | --- | --- |
| calories | carbs | fat | protein |
| 200 | 8.7 g | 14.5 g | 9.2 g |
| | |
| --- | --- |
| calories | 200 |
| carbs | 8.7 g |
| fat | 14.5 g |
| protein | 9.2 g |
Baked avocado boats with eggs and smoked salmon are a match made in brunch heaven! Not only is this recipe healthy, but it is also gluten-free …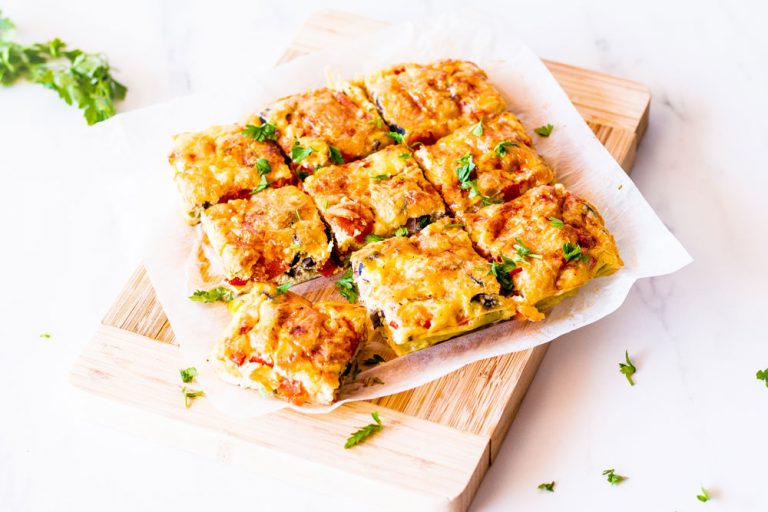 Delicious hot or cold, this easy 30-Minute Baked Egg Frittata with veggies is an efficient way to turn leftover ingredients into …
This garlic shrimp in tomato sauce with cauliflower mash is a low carb, easy to make recipe, that's packed full of flavor! Cauliflower mash …