Pasta dishes are a classic that everyone loves, and this recipe proves you can't have too much of a good thing! Whip up our easy Rustic Tomato Basil Vegetable Pasta in just 30 minutes. It's simple to make, delivers on flavor, and packs three of your 5-a-day into one delicious meal.
Feel free to change it up with whatever fresh veggies are in your garden or farmers' market. We used zucchini, mushrooms, broccolini, tomatoes, onions, garlic & fresh basil, but this recipe is flexible and perfect to use up whatever vegetables you like!
From the Shop
Rustic Tomato Basil Vegetable Pasta Recipe
Prep Time: 5 min | Cook Time: 25 min | Serves: 2
+ 4 ounces (115 g) whole wheat spaghetti
+ 2 tbsp olive oil
+ 1/2 medium zucchini, cut into small pieces
+ 1 cup broccolini, halved
+ 1 small red onion, chopped
+ 1/2 cup mushrooms, sliced
+ 1/2 cup baby tomatoes, cut in quarters
+ 1 cup peeled tomatoes
+ 2 garlic cloves, minced
+ 2 tbsp fresh basil, minced
+ sea salt and freshly ground black pepper, to taste
+ 1 tbsp Parmesan cheese, freshly grated

Cook spaghetti in a large pan of boiling salted water, according to packet instructions. Drain.
Meanwhile, heat one tablespoon olive oil in a large skillet over medium-high heat. Add zucchini and broccolini. Cook and stir until tender, then remove from pan.
In the same skillet, heat the remaining 1 tablespoon olive oil over medium-high heat. Add onion and saute for 2-3 minutes. Then add mushrooms, baby tomatoes, cook and stir for another 2-3 minutes. Add peeled tomatoes, garlic, half the basil, and season with salt and pepper. Bring to a boil, then reduce heat and simmer, uncovered, for 15 minutes, stirring occasionally.
Add cooked spaghetti, zucchini, and broccolini to the vegetable mixture. Toss to combine and serve garnished with Parmesan cheese and fresh basil. Enjoy!
| | | | |
| --- | --- | --- | --- |
| calories | carbs | fat | protein |
| 274 | 30.2 g | 15.4 g | 8.1 g |
| | |
| --- | --- |
| calories | 274 |
| carbs | 30.2 g |
| fat | 15.4 g |
| protein | 8.1 g |
Baked avocado boats with eggs and smoked salmon are a match made in brunch heaven! Not only is this recipe healthy, but it is also gluten-free …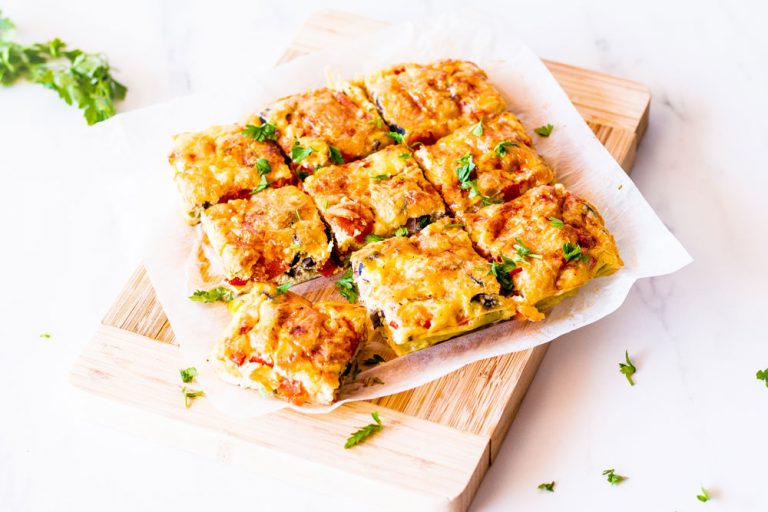 Delicious hot or cold, this easy 30-Minute Baked Egg Frittata with veggies is an efficient way to turn leftover ingredients into …
This garlic shrimp in tomato sauce with cauliflower mash is a low carb, easy to make recipe, that's packed full of flavor! Cauliflower mash …