Healthy roasted vegetables make an ideal side dish to any seasonal feast, and this easy recipe for Roasted Veggies with Cornbread Crumble is perfect for a chilly night or Thanksgiving. It's a gorgeous blend of fall veggies, bursting with natural flavor and appetizing colors that is filling, full of fiber, low in calories, and rich in vitamins, minerals, and phytonutrients.
This medley of roasted vegetables features carrots, butternut squash, green beans, zucchini, mushrooms, kale, garlic … and tastes like a guilty pleasure. Just make sure you keep the oven's temperature well below the oil's smoke point, which is about 410ºF / 210ºC for extra virgin olive oil, to get the healthiest and best savory fall flavors!
From the Shop
Roasted Veggies with Cornbread Crumble Recipe
Prep Time: 10 min | Cook Time: 30 min | Serves: 4
+ 2 carrots, diced
+ 1 cup butternut squash, cubed
+ 1 cup green beans
+ 1 zucchini, diced
+ 1 cup mushrooms, sliced
+ 1/2 cup red kidney beans, cooked (learn here how to soak and cook beans and legumes)
+ 1 cup kale, julienned
+ 1 cup cornbread, coarsely crumbled
+ 3 garlic cloves, minced
+ 1 1/2 tbsp olive oil
+ 1/4 tsp dried thyme
+ 1/4 tsp dried oregano
+ 1 tbsp fresh parsley, finely chopped
+ sea salt and freshly ground black pepper
Pre-heat oven to 375ºF / 190ºC. Place a large pot on the stovetop and fill it with 1/2 inch (1 cm) water. Bring to a boil, lower heat to medium-high, and place a steamer basket inside. Add the carrots, butternut squash, and green beans. Cover pot and steam the vegetables for 10-15 minutes or until just tender.
Transfer the steamed vegetables to a big bowl, add zucchini, mushrooms, beans, and kale, drizzle 1 tablespoon olive oil on top, and season with 1 garlic clove, thyme, oregano, salt, and pepper to taste. Toss to coat.
In a separate bowl, mix the cornbread crumbs with the remaining garlic cloves and olive oil. Transfer vegetables to a baking pan, sprinkle cornbread crumbs on top and bake in the oven for a total of 10-15 minutes or until golden brown. Serve and enjoy!
| | | | |
| --- | --- | --- | --- |
| calories | carbs | fat | protein |
| 212 | 30.9 g | 7.5 g | 8.8 g |
| | |
| --- | --- |
| calories | 212 |
| carbs | 30.9 g |
| fat | 7.5 g |
| protein | 8.8 g |
Baked avocado boats with eggs and smoked salmon are a match made in brunch heaven! Not only is this recipe healthy, but it is also gluten-free …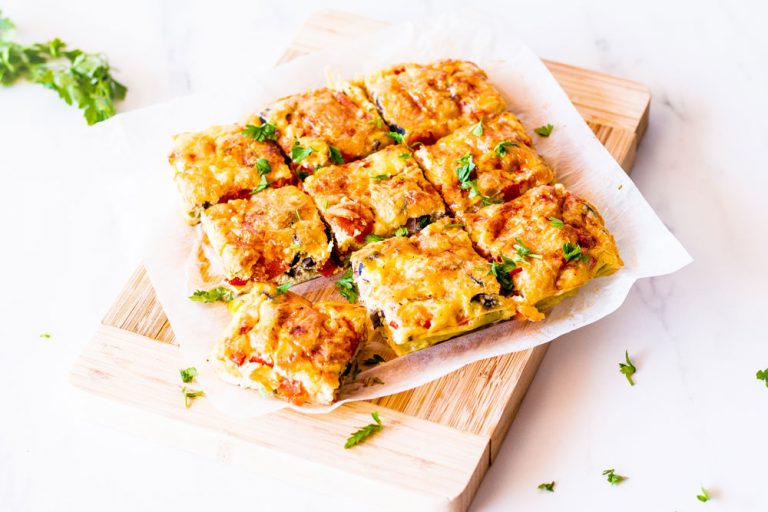 Delicious hot or cold, this easy 30-Minute Baked Egg Frittata with veggies is an efficient way to turn leftover ingredients into …
This garlic shrimp in tomato sauce with cauliflower mash is a low carb, easy to make recipe, that's packed full of flavor! Cauliflower mash …