Starting a diet can be daunting, and one of the biggest diet mistakes you can make is thinking about a diet as deprivation. Take this roasted tomato & caramelized onion tart with melted mozzarella as an example. This dish is high-calorie, mostly due to the puff pastry base. But if you divide this tart into 4 to 6 servings and enjoy it with 2 cups of salad greens (arugula, lettuce, cabbage, chard, romaine, spinach, watercress …), you'll feel full without feeling deprived!
If you cut out all sugar, cut out all carbs, and cut out all fat, you are restricting to a point that is most likely not sustainable. Eliminating one or more food groups doesn't mean that you are going to automatically lose weight. In fact, you may find yourself overeating these foods at some point.
Portion control is a better tool for losing weight and keeping it off. It allows you to have a tight handle on how many calories you are taking in and, with practice, you'll learn to eat what your body needs instead of what your mind wants!
From the Shop
Roasted Tomato & Caramelized Onion Tart Recipe
Prep Time: 45 min | Cook Time: 35 min | Serves: 4
Caramelized onions
+ 3 red onions, sliced
+ 2 tbsp olive oil
+ 2 tbsp balsamic vinegar
+ 1/2 tsp dried thyme
+ sea salt and freshly ground black pepper, to taste

Tart
+ 1 sheet all-butter puff pastry
+ 10-12 cherry tomatoes, cut in half
+ 3/4 cup mozzarella cheese, shredded
+ 1 egg, beaten
+ 1/2 tbsp sesame seeds
+ 1 tsp dried oregano
+ 1 tsp dried basil

To make the caramelized onions: Preheat oven to 400ºF / 200ºC. Combine the olive oil, onions, thyme, salt, and pepper in a bowl. Transfer to a baking pan and bake for 30 minutes, stirring once after 15 minutes. Add balsamic vinegar, mix well and bake for a further 15 minutes, until onions are sticky and caramelized. Use immediately, or store in the fridge, in a sterilized glass jar.
To make the tart: Preheat oven to 400ºF / 200ºC. Lay out the puff pastry on a piece of baking paper and spread the caramelized onions over the pastry, leaving a 2-inch (5 cm) border around the edge. Arrange the tomatoes and mozzarella on top and season with oregano and basil. Brush the border of the pastry with the beaten egg and fold over the tomatoes creating a tart. Brush the tart edges with the remaining egg and sprinkle sesame seeds on top. Bake in the preheated oven for about 35 minutes and enjoy!
| | | | |
| --- | --- | --- | --- |
| calories | carbs | fat | protein |
| 277 | 29.1 g | 15.9 g | 8.3 g |
| | |
| --- | --- |
| calories | 277 |
| carbs | 29.1 g |
| fat | 15.9 g |
| protein | 8.3 g |
Baked avocado boats with eggs and smoked salmon are a match made in brunch heaven! Not only is this recipe healthy, but it is also gluten-free …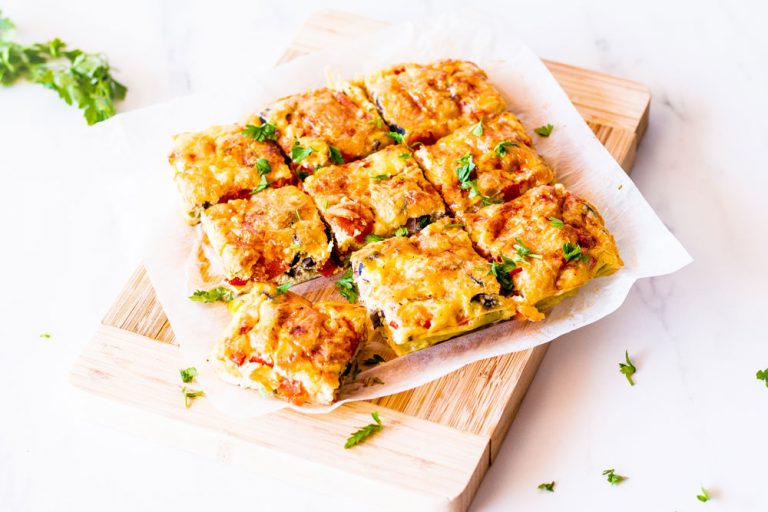 Delicious hot or cold, this easy 30-Minute Baked Egg Frittata with veggies is an efficient way to turn leftover ingredients into …
This garlic shrimp in tomato sauce with cauliflower mash is a low carb, easy to make recipe, that's packed full of flavor! Cauliflower mash …