Nothing is more comforting than sipping a warming bowl of soup on a cold, rainy day. And this hearty pumpkin, sweet potato, and bacon soup will definitely soothe all your senses! As you already know, reducing the consumption of certain processed meats, such as bacon, is important to your overall health and well-being. But eliminating these foods from your diet or labeling them as forbidden, can have the opposite effect and fuel the diet-binge cycle, a never-ending battle against your appetite.
Research shows that restrictive diets and dieting, in general, cause a variety of biochemical imbalances that lead to cravings and bingeing. Your body is seen as the source of your struggles, and you're in a constant state of fear. Fear of overeating, fear to let go of control, fear you'll never stop eating … which is deeply exhausting and not effective at all.
Making as many healthy food choices as you can without being too inflexible or restrictive is the best way to overcome your difficulties with food. Love yourself, relax more and enjoy food without guilt. The more you trust yourself with your choices and enjoy the food you eat, the deeper you will get satisfied, and those unhealthy food cravings and urges to binge will fade away.
From the Shop
Roasted Pumpkin, Sweet Potato & Bacon Soup Recipe
Prep Time: 10 min | Cook Time: 45 min | Serves: 6
+ 1 butternut squash, seeded and cut into small squares
+ 1 sweet potato, cut into small squares
+ 1 onion, diced
+ 2 garlic cloves, minced
+ 2 tbsp olive oil
+ 5 cups homemade vegetable stock
+ 1/4 tsp ground nutmeg
+ sea salt and freshly ground black pepper, to taste

For serving:
+ 1/4 cup goat cheese, crumbled
+ 2 tbsp pepitas, roasted
+ 2 tbsp fresh chives, chopped
+ 4 slices bacon, diced
Preheat oven to 400ºF / 200ºC. Toss butternut squash and sweet potato in a bowl with salt, pepper, and olive oil till evenly coated. Spread vegetables out evenly on a baking sheet in a single layer. Cook for 30-45 min, stirring once during cooking until vegetables are tender.
Heat a skillet over medium-high heat, add bacon and cook until crispy, for about 5-6 minutes. Transfer to a paper towel-lined plate and set aside.
Saute the onions in the skillet with the remaining bacon grease for about 2-3 minutes. Add garlic, nutmeg, salt, and pepper and saute for another minute.
Pour the onion-garlic mixture into a soup pot, add the roasted veggies, stir in vegetable broth and puree with an immersion blender. Bring to a boil, then reduce heat and simmer until slightly thickened, about 5-10 minutes. Garnish with goat cheese, pepitas, bacon, and chives, and serve. Enjoy!
| | | | |
| --- | --- | --- | --- |
| calories | carbs | fat | protein |
| 288 | 32.8 g | 16.1 g | 10.3 g |
| | |
| --- | --- |
| calories | 288 |
| carbs | 32.8 g |
| fat | 16.1 g |
| protein | 10.3 g |
Baked avocado boats with eggs and smoked salmon are a match made in brunch heaven! Not only is this recipe healthy, but it is also gluten-free …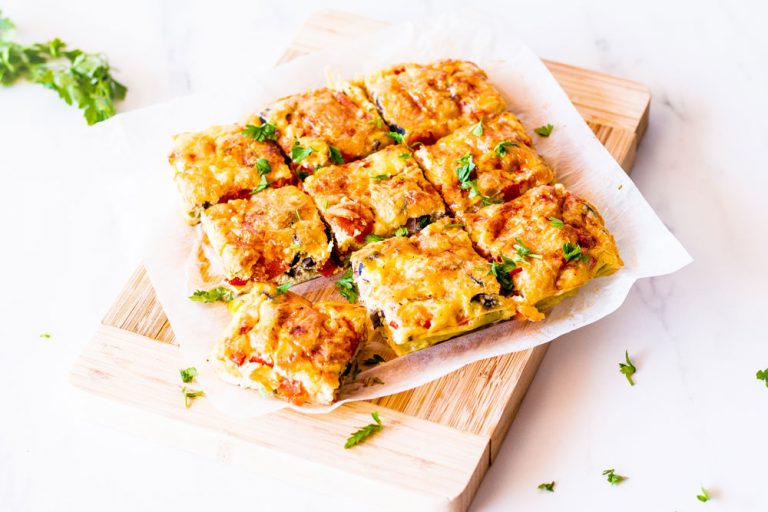 Delicious hot or cold, this easy 30-Minute Baked Egg Frittata with veggies is an efficient way to turn leftover ingredients into …
This garlic shrimp in tomato sauce with cauliflower mash is a low carb, easy to make recipe, that's packed full of flavor! Cauliflower mash …