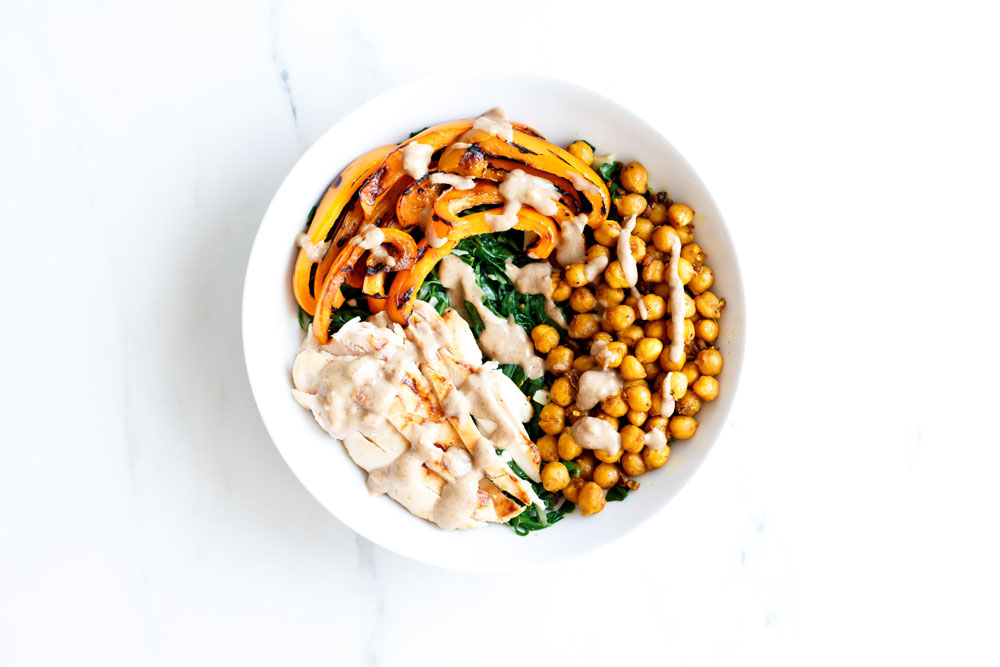 If you eat green salads often, you're likely to have high blood levels of antioxidants and micronutrients (vitamins and minerals). But a salad should also include good sources of macronutrients, like slow-digesting carbs, polyunsaturated fats, and lean proteins. This roasted chickpea salad with tahini dressing is the perfect example of a health-promoting and well-balanced recipe that is not only good for your body but also tastes delicious! To get this recipe ready in under 10 minutes, grill the chicken breasts, bell peppers and roast the chickpeas on your meal prep day. Enjoy!
Prep Time: 20 min | Cook Time: 40 min | Serves: 2
Roasted Chickpeas Recipe
Preheat oven to 450ºF (230ºC). In a bowl, toss chickpeas with olive oil, and season with sea salt, garlic, and Garam Masala. Spread on a baking sheet, and bake for 30 to 40 minutes, until browned and crunchy.
Tahini Dressing Recipe
+ 1 tbsp
homemade tahini
+ juice of 1 lime
+ 1 garlic clove, finely minced
+ pinch of sea salt
+ 1 tsp raw honey or pure maple syrup
+ 1 to 2 tsp warm water to thin
Combine all ingredients in a jar with a tight-fitting lid, shake until well combined. Refrigerate and let flavors blend for 10 minutes, before serving.
Garlicky Sautéed Swiss Chard Recipe
+ 1 tbsp olive oil
+ 2 garlic cloves, thinly sliced
+ 1 bunch Swiss chard, ribs removed and leaves roughly chopped
+ pinch of sea salt
Add the olive oil to a large skillet with the garlic and cook over medium heat until the garlic turns golden. Add the Swiss chard leaves, season with sea salt and cook until the leaves are wilted, 1 to 2 minutes.
Grilled Chicken Breasts and Grilled Bell Pepper Recipes
+ 2 chicken breasts
+ 1 bell pepper
+ sea salt to taste
+ pepper to taste
To cook chicken breasts: Preheat a grill pan over a medium-high burner until it's very hot. With the tip of a sharp knife, remove any loose fat, tendon or bone fragments from your chicken breasts, wash and season with salt and pepper. Cook the chicken breasts on the first side for 3 to 4 minutes, then cook for another 5 to 7 minutes on the second side.
To cook bell peppers: Preheat a grill pan over medium-high heat. Wash the bell pepper, cut the top and remove all the seeds. Cut the bell pepper, lengthwise, into 1/4-inch strips and place them on the preheated pan. Roast the pepper strips for 5 minutes on each side, until cooked.
you might also like