These raspberry, yogurt, and coconut ice cream cups are filled with all sorts of healthy ingredients and are a snack you can eat knowing that you're truly nourishing your body.
A diet high in nutrient-rich foods can improve our body's response to external aggressions. When our bodies are well-nourished, they're better able to fight infections, viruses, protect against the sun, and prevent many diseases, including obesity and type 2 diabetes.
Raspberries are high in antioxidants, coconut cream boosts immunity, cacao powder enhances mood, and walnuts are a good source of omega-3 fatty acids. And because this recipe requires zero cooking, you'll also get a nice dose of probiotics from the yogurt. Unlike heat, the freezing process does not kill any significant amount of bacteria. The cultures just go into a dormant state and, when eaten, they become active again, which helps digestion and the absorption of food and nutrients.
From the Shop
Raspberry, Coconut & Yogurt Ice Cream Cups Recipe
Prep Time: 10 min + freezing time | Cook Time: 0 min | Yields: 8 ice cream cups
Cacao & Walnut Crust
+ 1/2 cup walnuts
+ 1/2 cup pitted dates
+ 1 tbsp raw cacao powder
+ pinch of sea salt

Raspberry Filling
+ 1/2 cup fresh raspberries
+ 1/2 cup Greek yogurt
+ 4 tbsp coconut cream
+ 2 tbsp honey

To make the crust: In a food processor, add the raw walnuts and remaining crust ingredients and process until a small ball forms, about one minute. Scoop the walnut-date mixture evenly into each lined muffin cup, press flat and place in the freezer to harden.
To make the filling: Add the filling ingredients into a blender, and blend together until very smooth.
Fill each muffin cup with the raspberry and coconut cream filling and freeze for 4-6 hours to allow the mixture to set. Remove from the freezer and enjoy!
| | | | |
| --- | --- | --- | --- |
| calories | carbs | fat | protein |
| 157 | 16.7 g | 9.5 g | 3.8 g |
| | |
| --- | --- |
| calories | 157 |
| carbs | 16.7 g |
| fat | 9.5 g |
| protein | 3.8 g |
Baked avocado boats with eggs and smoked salmon are a match made in brunch heaven! Not only is this recipe healthy, but it is also gluten-free …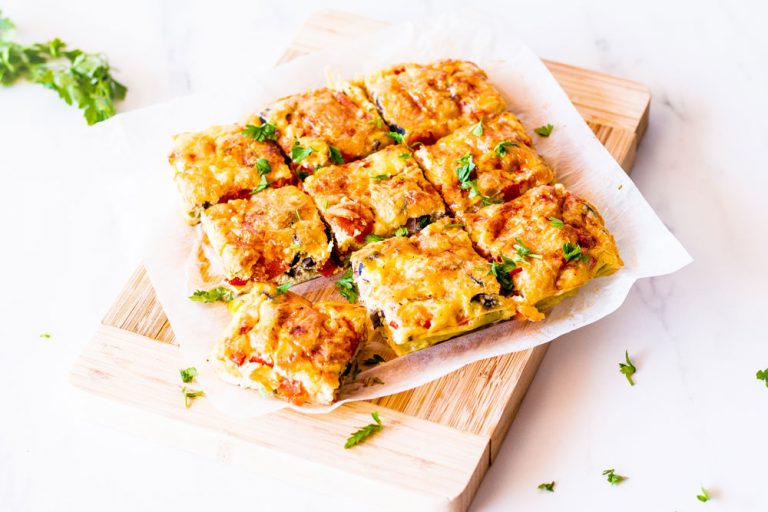 Delicious hot or cold, this easy 30-Minute Baked Egg Frittata with veggies is an efficient way to turn leftover ingredients into …
This garlic shrimp in tomato sauce with cauliflower mash is a low carb, easy to make recipe, that's packed full of flavor! Cauliflower mash …