This prosciutto, mozzarella, and spicy chickpea salad with strawberry vinaigrette could be considered "unhealthy" due to the prosciutto in it. But prosciutto is just the hind leg or thigh of a pig, that's cured in salt and then aged for up to two years.
Good quality Italian prosciutto is a totally natural food that has been enjoyed by millions of people over the centuries and, as long as it's eaten occasionally and in moderation, can be enjoyed without any guilt. The so-called "healthier" or "low-fat" versions are often filled with unpronounceable ingredients that are surely not as natural and harmless as the original product.
Healthy eating is not about strict dietary limitations, unrealistic goals, or depriving yourself of the foods you love. Rather, it's about improving your health, feeling great, having more energy, and boosting your mood. When you reduce the number of processed foods in your diet and eat mostly simple, natural foods, you're immediately setting yourself up for success.
Be smart about your choices and don't buy into any crazy dietary restrictions. Let go of food guilt, get informed, listen to your body, read the labels and focus on eating real food!
From the Shop
Prosciutto, Mozzarella & Spicy Chickpea Salad with Strawberry Vinaigrette Recipe
Prep Time: 10 min | Cook Time: 0 min | Serves: 2
Strawberry Vinaigrette
+ 1/2 cup fresh strawberries, cut into small chunks
+ 2 tbsp olive oil
+ 1 tbsp apple cider vinegar
+ 1 tsp raw honey
+ sea salt and freshly ground black pepper, to taste

Salad
+ 2 cups arugula, washed and drained
+ 1/2 cup spicy baked chickpeas
+ 2 oz (55 g) prosciutto, thin sliced and torn into pieces
+ 4 oz (110 g) fresh mozzarella, shredded
+ 2 tbsp walnuts, toasted
+ fresh basil leaves, to serve

To make the strawberry vinaigrette: Place the strawberries and honey in a blender, season with salt and pepper, cover, and process until pureed. Gradually add vinegar and oil in a steady stream and process until thickened. Serve immediately or transfer to a jar, cover, and store in the refrigerator.
Place the arugula on a large platter, top with prosciutto, chickpeas, mozzarella, basil and walnuts, and drizzle the dressing on top. Enjoy!
| | | | |
| --- | --- | --- | --- |
| calories | carbs | fat | protein |
| 529 | 22.6 g | 37.5 g | 29.4 g |
| | |
| --- | --- |
| calories | 529 |
| carbs | 22.6 g |
| fat | 37.5 g |
| protein | 29.4 g |
Baked avocado boats with eggs and smoked salmon are a match made in brunch heaven! Not only is this recipe healthy, but it is also gluten-free …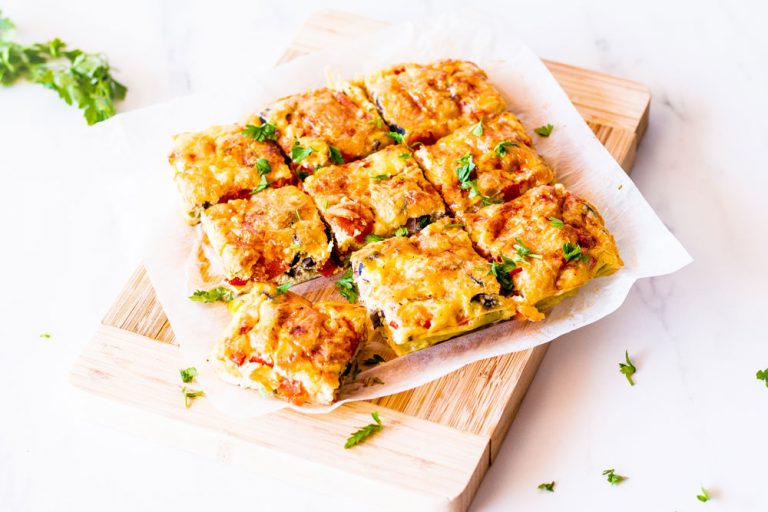 Delicious hot or cold, this easy 30-Minute Baked Egg Frittata with veggies is an efficient way to turn leftover ingredients into …
This garlic shrimp in tomato sauce with cauliflower mash is a low carb, easy to make recipe, that's packed full of flavor! Cauliflower mash …