This hearty, easy to make, vegetable stuffed portobello mushrooms recipe is packed with fiber and phytochemicals, and with only 211 calories and 16.8 g of protein per serving, it fits any fat loss diet. You can have it as a snack, a light dinner, or make it after an indulgent weekend to get back on track!
Portobello mushrooms are very low in calories and have a meaty texture, making them a great substitute for meat in recipes. They're also nutrient-dense and are rich in B-complex vitamins, essential for a healthy metabolism; selenium, a key anti-aging nutrient; and copper, which contributes to body growth and repair.
From the Shop
Vegetable Stuffed Portobello Mushrooms Recipe
Prep Time: 10 min | Cook Time: 25 min | Serves: 2
+ 4 Portobello mushrooms
+ 1 onion
+ 4 garlic cloves
+ 1 small eggplant
+ 1 small zucchini
+ 1/4 cup cottage cheese
+ 1 1/2 cups homemade tomato sauce
+ 1 tbsp Tamari sauce
+ 1/4 tsp smoked paprika
+ 1/2 tsp dried thyme
+ 1/2 tsp dried basil
+ sea salt and freshly ground black pepper, to taste
+ 1/4 cup fresh parsley, coarsely chopped

Preheat oven to 400ºF (200ºC). Wash the mushrooms and remove the stems. Cut the eggplant, zucchini, and onion into thin strips, chop the garlic and mash the cottage cheese with a fork.
Heat 1 tbsp olive oil in a sauté pan over medium-high heat. Add the garlic and onion and sauté for 1 to 2 minutes until softened. Add the eggplant and zucchini and let cook until wilted. Then add the cottage cheese and season with tamari sauce, paprika, thyme, basil, and freshly ground black pepper. Finally, add 1/2 cup of tomato sauce, mix well and remove from heat.
Pour the remaining tomato sauce into a greased baking dish. Place mushroom caps on the prepared pan and fill them with the stuffing. Bake for 20-25 minutes, or until the topping is golden, and serve with fresh parsley. Enjoy!
| | | | |
| --- | --- | --- | --- |
| calories | carbs | fat | protein |
| 211 | 40.1 g | 1.5 g | 16.8 g |
| | |
| --- | --- |
| calories | 211 |
| carbs | 40.1 g |
| fat | 1.5 g |
| protein | 16.8 g |
Baked avocado boats with eggs and smoked salmon are a match made in brunch heaven! Not only is this recipe healthy, but it is also gluten-free …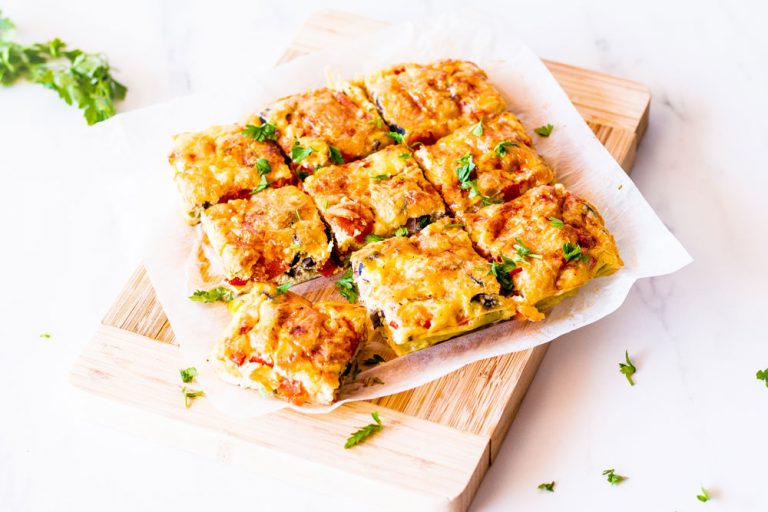 Delicious hot or cold, this easy 30-Minute Baked Egg Frittata with veggies is an efficient way to turn leftover ingredients into …
This garlic shrimp in tomato sauce with cauliflower mash is a low carb, easy to make recipe, that's packed full of flavor! Cauliflower mash …