If you're a fan of fish, you know that nothing beats freshly caught grilled fish, simply seasoned with sea salt, black pepper, garlic, and a drizzle of olive oil. But if you're not a fan of the taste or smell of fish, try making 'battered' fish instead, which is still much more healthy than anything that comes out of a box.
To make these oven-baked fish balls, you can use just about any white fish you like. White fish tastes less "fishy" than oily fish, and when mixed with all the batter ingredients you won't even know it's there!
Fish is a healthy, high-protein food that is loaded with vital nutrients, such as omega-3 fatty acids and vitamin D. It's important to eat good quality, sustainable fish 3 to 4 times a week and choose smaller species, such as anchovies, haddock, salmon, perch, sardine, trout …. which contain lower levels of mercury.
From the Shop
Oven-Baked Fish Balls with Tzatziki Sauce Recipe
Prep Time: 10 min | Cook Time: 55 min | Yields: 24 fish balls
+ 7 oz (200 g) skinless, boneless sustainable white fish fillets, such as cod, hake, haddock or pollock, steamed
+ 1 cup homemade breadcrumbs
+ 1 cup green peas, steamed
+ 3/4 cup flaxseed meal
+ 1 egg
+ 1 tbsp olive oil
+ 2 tbsp nutritional yeast
+ pinch of cayenne pepper
+ sea salt and freshly ground black pepper, to taste
+ homemade tzatziki sauce, to serve

To steam green peas: Add about 2 inches (5 cm) of water to a saucepan, then fit the steamer over, making sure it doesn't come into contact with the water. Bring the water to a boil, place the fresh peas in the steamer basket and place the basket in the saucepan. Cover with a tight-fitting lid and allow to steam for 2 minutes. Remove from heat and let cool.
To steam white fish: Repeat the process described above for the peas and leave to steam in the basket for about 8-10 minutes or until the fish is opaque.
Preheat oven to 350ºF / 175ºC. Add fish and peas to a food processor and whizz until minced. Transfer to a large mixing bowl and add the breadcrumbs, flaxseed, egg, olive oil, nutritional yeast, cayenne pepper, salt and a few grindings of black pepper. Use your hands to mix everything together, then take a tablespoon of the fish-pea mixture onto your palm and shape into fish balls. Transfer the fish balls to a lined baking sheet and bake in the oven for about 45 minutes until golden.
Serve with tzatziki sauce or homemade tomato sauce and enjoy!
| | | | |
| --- | --- | --- | --- |
| calories | carbs | fat | protein |
| 74 | 6 g | 3.2 g | 4.7 g |
| | |
| --- | --- |
| calories | 74 |
| carbs | 6 g |
| fat | 3.2 g |
| protein | 4.7 g |
Baked avocado boats with eggs and smoked salmon are a match made in brunch heaven! Not only is this recipe healthy, but it is also gluten-free …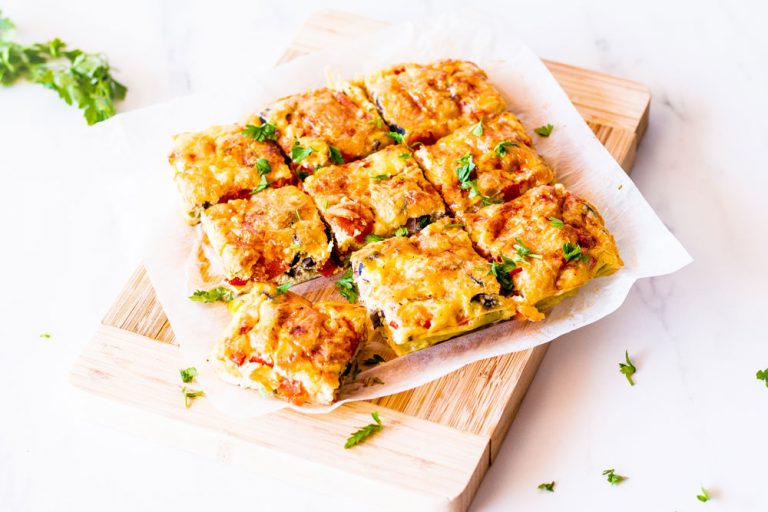 Delicious hot or cold, this easy 30-Minute Baked Egg Frittata with veggies is an efficient way to turn leftover ingredients into …
This garlic shrimp in tomato sauce with cauliflower mash is a low carb, easy to make recipe, that's packed full of flavor! Cauliflower mash …