This One-Pot Italian Minestrone Soup Recipe is inspired by the hearty classic Italian soup made with vegetables, beans, tomatoes, and pasta. This recipe is super easy to make and can be adapted to whatever vegetables you have on hand. It's also make-ahead and freezer friendly, perfect to cook on your meal prep day.
A warming bowl of this chunky flavorful soup is the perfect solution to a cold night in. Serve it with some fresh crusty bread, rolls, or garlic bread to create the most comforting meal.
From the Shop
One-Pot Italian Minestrone Soup Recipe
Prep Time: 10 min | Cook Time: 45 min | Serves: 6
+ 2 tbsp olive oil
+ 4 slices bacon, thinly sliced
+ 2 garlic cloves, minced
+ 1 onion, diced
+ 2 carrots, diced
+ 2 sticks of celery, thinly sliced
+ 1 zucchini, roughly chopped
+ 1 leek, thinly sliced
+ 1-2 tsp dried oregano
+ 2 bay leaves
+ 2 potatoes, roughly chopped
+ 1 cup white beans, cooked (learn here how to soak and cook beans and legumes)
+ 1 cup whole peeled canned tomatoes, diced
+ 6 cups homemade vegetable stock
+ 1 cup fusilli or penne pasta
+ sea salt and freshly ground black pepper to taste
+ fresh thyme, for serving

Heat the olive oil in a large saucepan over medium heat. Add the bacon and fry gently for about 2 minutes. Then add the garlic, onion, carrots, celery, zucchini, leek, oregano, and bay and cook slowly for about 10 minutes, stirring occasionally.
Add the potatoes, beans, and tomatoes to the pan, then pour in the vegetable stock. Stir well, bring to a boil, then simmer for about 20 minutes.
Add the pasta, and cook for 10 more minutes, or until the pasta is al dente. Season to taste with sea salt and black pepper.
Serve in bowls topped with fresh thyme and additional olive oil, if desired. Enjoy!
| | | | |
| --- | --- | --- | --- |
| calories | carbs | fat | protein |
| 259 | 35.4 g | 11.1 g | 10.1 g |
| | |
| --- | --- |
| calories | 259 |
| carbs | 35.4 g |
| fat | 11.1 g |
| protein | 10.1 g |
Baked avocado boats with eggs and smoked salmon are a match made in brunch heaven! Not only is this recipe healthy, but it is also gluten-free …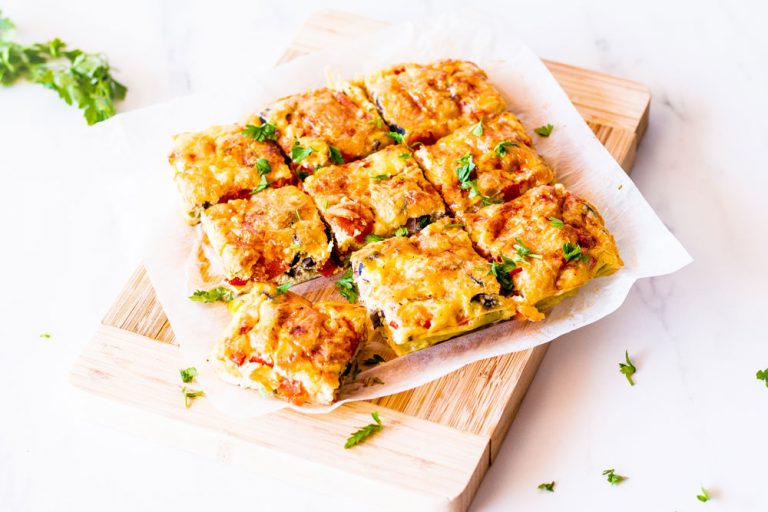 Delicious hot or cold, this easy 30-Minute Baked Egg Frittata with veggies is an efficient way to turn leftover ingredients into …
This garlic shrimp in tomato sauce with cauliflower mash is a low carb, easy to make recipe, that's packed full of flavor! Cauliflower mash …