Impress your family and friends with this Mushroom, Spinach, and Crumbled Feta Pie. A perfect brunch recipe that's delicious and easy to make but also nutritionally rich.
The base of this pie is puff pastry, which makes this dish a little high in calories. So for a lovely but also calorie-conscious lunch or dinner, divide the pie into 4 to 6 servings and enjoy it with a salad or a bowl of veggie soup.
Mushrooms are nutritional superstars that help fight aging and boost health; spinach is rich in vitamin K, which supports the maintenance of strong bones, improves bone density, and decreases the risk of fractures; and feta contains a high amount of B vitamins, phosphorus, and calcium, which can also benefit bone health.
From the Shop
Mushroom, Spinach & Crumbled Feta Pie Recipe
Prep Time: 10 min | Cook Time: 50 min | Serves: 4
+ 1 red onion, sliced
+ 2 garlic cloves, minced
+ 1 tbsp olive oil
+ 1 red bell pepper, thinly sliced
+ 2 cups mushrooms, sliced
+ 1/4 cup vegetable stock
+ 3 cups spinach
+ sea salt and freshly ground black pepper, to taste
+ 1 sheet all-butter puff pastry
+ 3/4 cup feta cheese, crumbled
+ 1 egg, beaten

To make the mushroom-spinach filling: In a large skillet, heat oil over medium-high heat, add onions, and cook until golden. Add mushrooms, garlic, and bell pepper, and season to taste. Cook until the mushrooms are softened, then add the vegetable stock and simmer for 10 minutes. Add spinach, cook and stir until wilted, then remove from heat and set aside.
To make the pie: Preheat oven to 400ºF / 200ºC. Lay out the puff pastry on a piece of baking paper and spread the mushroom-spinach filling over the pastry, leaving a 2-inch (5 cm) border around the edge. Sprinkle the feta cheese on top and brush the border of the pastry with the beaten egg. Fold the pastry over the mushroom-spinach filling creating a pie. Brush the pie edges with the remaining egg and bake in the preheated oven for about 35 minutes. Enjoy!
| | | | |
| --- | --- | --- | --- |
| calories | carbs | fat | protein |
| 498 | 36.6 g | 34.6 g | 12.4 g |
| | |
| --- | --- |
| calories | 498 |
| carbs | 36.6 g |
| fat | 34.6 g |
| protein | 12.4 g |
Baked avocado boats with eggs and smoked salmon are a match made in brunch heaven! Not only is this recipe healthy, but it is also gluten-free …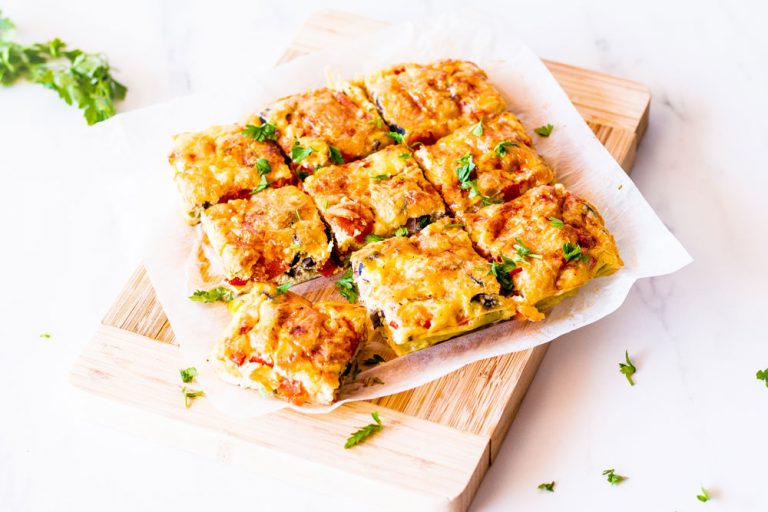 Delicious hot or cold, this easy 30-Minute Baked Egg Frittata with veggies is an efficient way to turn leftover ingredients into …
This garlic shrimp in tomato sauce with cauliflower mash is a low carb, easy to make recipe, that's packed full of flavor! Cauliflower mash …