These Moroccan White Bean & Rice Flour Bites are budget, gluten-free, vegetarian, and the best part is that they're easy to make and portable. Just mix everything in a blender and bake in the oven for some tasty breakfast or lunch on the go.
Make these healthy bites ahead of time or on your meal prep day. Grab a few on the way to work or school and, if you want, reheat them in the microwave or oven. This is just a great recipe to have in your rotation, to help make your health goals easier to accomplish.
From the Shop
Moroccan White Bean & Rice Flour Bites Recipe
Prep Time: 10 min | Cook Time: 40 min | Yields: 20 small bites
+ 1 1/2 cups white beans, cooked (learn here how to soak and cook beans and legumes)
+ 1/2 red bell pepper, deseeded
+ 1 small red onion
+ 2 garlic cloves
+ 1/2 cup fresh cilantro
+ 1 tsp ground coriander
+ 1 tsp cumin
+ 1/2 tsp smoked paprika
+ 1/4 tsp chili powder
+ 1/2 tsp sea salt
+ 1 egg
+ 3/4 cup rice flour

Preheat oven to 350ºF (175ºC). In a food processor, pulse beans, bell pepper, onion, garlic, cilantro, coriander, cumin, paprika, chili, and salt until a smooth paste is achieved.
Transfer bean mixture to a bowl, add egg, rice flour, and mix until well combined.
Pour the mixture into a greased muffin tin. Bake for 35-40 minutes, let cool and store in the fridge for up to 1 week. Enjoy!
| | | | |
| --- | --- | --- | --- |
| calories | carbs | fat | protein |
| 46 | 8.8 g | 0.4 g | 2 g |
| | |
| --- | --- |
| calories | 46 |
| carbs | 8.8 g |
| fat | 0.4 g |
| protein | 2 g |
Baked avocado boats with eggs and smoked salmon are a match made in brunch heaven! Not only is this recipe healthy, but it is also gluten-free …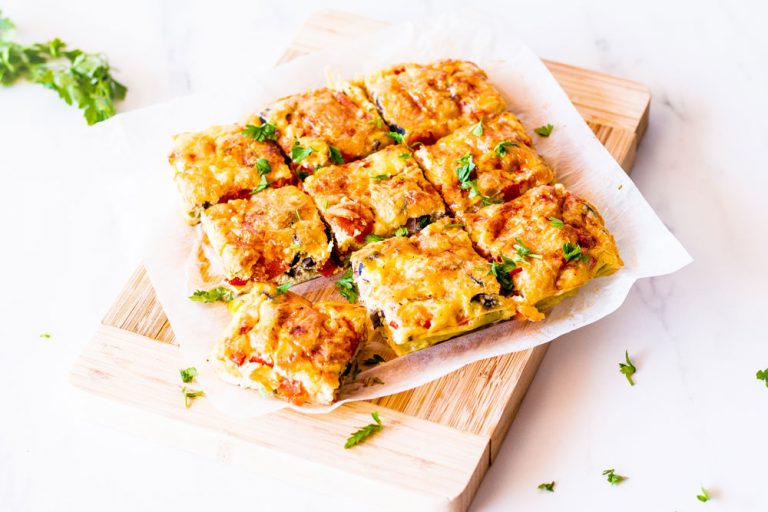 Delicious hot or cold, this easy 30-Minute Baked Egg Frittata with veggies is an efficient way to turn leftover ingredients into …
This garlic shrimp in tomato sauce with cauliflower mash is a low carb, easy to make recipe, that's packed full of flavor! Cauliflower mash …