With just a few simple ingredients and no-cooking required, you can make your homemade version of the trendy Adobo sauce! And in less than ten minutes, these adobo style shrimps are ready to top a platter of veggie-packed and aesthetically pleasing, mini tortilla boats.
Adobo sauce is a fantastic blend of vinegar, tomato, honey, garlic, that can be used in many Mexican dishes, but it's also an excellent seasoning for most cooking methods such as grilling, sautéing, or roasting.
From the Shop
Mini Tortilla Boats with Adobo Style Shrimps Recipe
Prep Time: 15 min | Cook Time: 4 min | Serves: 4
Adobo style shrimps
+ 7 oz (200 g) shrimp, deveined and peeled
+ 3 tbsp olive oil
+ 2 tbsp apple cider vinegar
+ 2 tbsp tomato paste
+ 1 tbsp raw honey
+ 1 garlic clove, minced
+ 1/2 tbsp smoked paprika
+ 1 tsp onion powder
+ 1 tsp dried oregano
+ 1/2 tsp cayenne pepper
+ 1/2 tsp cumin
+ sea salt and freshly ground black pepper, to taste

Tortilla boats
+ 8 mini tortilla boats, heated
+ 1/2 cup lettuce or mixed greens
+ 1/2 onion, thinly sliced
+ 1/4 cup beans, cooked
+ 1/4 red bell pepper, thinly sliced
+ 1/2 avocado, sliced
+ 1/4 cup corn, cooked
+ 5 cherry tomatoes, quartered
+ 1 tbsp fresh herbs, chopped
+ 2 tbsp creamy kefir dressing, for drizzling on top
+ juice of 1 lime

Stir together 1 tbsp olive oil and all remaining "Adobo style shrimps" ingredients in a medium bowl. Add shrimps, turn to coat, and let rest on the counter for 15 minutes.
Heat the remaining two tablespoons olive oil in a large frying pan over medium-high heat. Once hot, add shrimp in a single layer. Let cook for 2 minutes, then turn over and cook for an additional minute or until they're pink.
Fill the tortilla boats with your favorite toppings or with the toppings suggested in the recipe, and finish with shrimps, kefir dressing, and a squeeze of lime. Enjoy!
| | | | |
| --- | --- | --- | --- |
| calories | carbs | fat | protein |
| 594 | 69.6 g | 27 g | 21.6 g |
| | |
| --- | --- |
| calories | 594 |
| carbs | 69.6 g |
| fat | 27 g |
| protein | 21.6 g |
Baked avocado boats with eggs and smoked salmon are a match made in brunch heaven! Not only is this recipe healthy, but it is also gluten-free …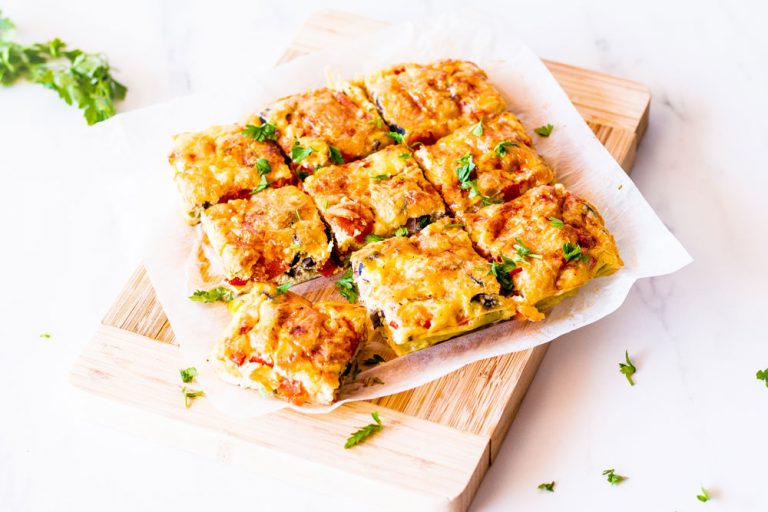 Delicious hot or cold, this easy 30-Minute Baked Egg Frittata with veggies is an efficient way to turn leftover ingredients into …
This garlic shrimp in tomato sauce with cauliflower mash is a low carb, easy to make recipe, that's packed full of flavor! Cauliflower mash …