While we sleep, our body does a full toxin cleanse. So the first thing we should do in the morning is to help our body eliminate all those unwanted toxins. To do that, start the day with a cleansing beverage, like this metabolism-boosting golden tea, 30 minutes before breakfast.
Drinking warm water with lemon upon waking is a simple and effective way to detoxify the body and stimulate the digestive enzymes. The turmeric root is rich in curcumin, a phytonutrient with natural anti-inflammatory properties, ginger treats digestive and gastrointestinal problems, and cayenne pepper boosts the metabolism. Both black pepper and ghee aid in the absorption of all the amazing active ingredients in this golden tea, and ghee also stimulates the removal of toxins.
From the Shop
Metabolism-Boosting Golden Tea Recipe
Prep Time: 5 min | Cook Time: 1 min | Serves: 1
+ 1 cup warm water
+ 1 tsp powdered turmeric or 1.5 inches (4 cm) fresh turmeric root, grated
+ 1/2 tsp powdered ginger or 1 inch (2.5 cm) fresh ginger root, grated
+ 1 tsp ghee
+ pinch of cayenne pepper
+ pinch of freshly ground black pepper
+ juice of 1/2 lemon

Heat the water with the ghee until it's warm but not hot. Put all the spices in a glass and mix in the water, stirring well. Add the lemon juice and drink immediately. Enjoy!
| | | | | |
| --- | --- | --- | --- | --- |
| lemon | turmeric | ginger | cayenne pepper | ghee |
| stimulates the digestive enzymes | has anti-inflammatory properties | treats digestive problems | boosts the metabolism | stimulates the removal of toxins |
| | |
| --- | --- |
| lemon | stimulates the digestive enzymes |
| turmeric | has anti-inflammatory properties |
| ginger | treats digestive problems |
| cayenne pepper | boosts the metabolism |
| ghee | stimulates the removal of toxins |
Baked avocado boats with eggs and smoked salmon are a match made in brunch heaven! Not only is this recipe healthy, but it is also gluten-free …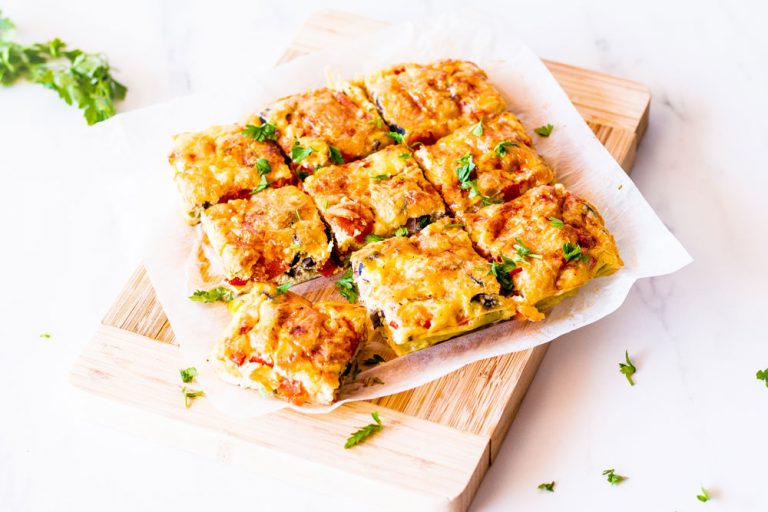 Delicious hot or cold, this easy 30-Minute Baked Egg Frittata with veggies is an efficient way to turn leftover ingredients into …
This garlic shrimp in tomato sauce with cauliflower mash is a low carb, easy to make recipe, that's packed full of flavor! Cauliflower mash …