If you enjoy pizza night but are trying to cut down calories or reduce your carb intake, you can replace traditional pizza crust with this cauliflower pizza crust, instead. It's a healthy, veggie-packed, low-carb and high-protein alternative, that's naturally gluten-free. It's also a good way to get your kids to eat veggies, and you only need 3 ingredients to make it!
Pizza night is a weekly event for most families but, if you're trying to get in shape, you probably think you need to skip it right? Wrong. Most restrictive diets will help you lose weight, but they aren't sustainable long-term. Losing weight is not about rules, it's about lifestyle changes. And eliminating pizza night is not an acceptable lifestyle change!
From the Shop
Mediterranean Pizza with Cauliflower Crust Recipe
Prep Time: 20 min | Cook Time: 30 min | Serves: 2
Cauliflower Crust
+ 1 medium head of cauliflower, grated
+ 1 egg
+ 1/2 cup Parmesan cheese, grated

Toppings
+ 5 tbsp homemade tomato sauce
+ 1/2 small red bell pepper, cut into thin slices
+ 1/2 small red onion, cut into slices
+ 6 cherry tomatoes, cut in quarters
+ 4-5 pitted kalamata olives, thinly sliced
+ 2 oz (57 g) feta cheese, crumbled
+ a handful fresh basil leaves, roughly chopped

Preheat oven to 400ºF / 200ºC. Rinse cauliflower, remove the outer leaves, separate into florets and process, using a food processor or box grater, until it resembles rice. Pour cauliflower rice into a large skillet and cook over medium heat to remove the moisture for about 8-10 minutes, stirring frequently. Transfer to a bowl, add egg and parmesan cheese and whisk everything together.
Transfer cauliflower dough to a parchment lined round pizza pan, press down with your hands until the dough is evenly spread and bake in the oven for 20 minutes.
Remove from oven, top with tomato sauce, bell pepper, red onion, tomatoes, olives, and feta cheese. Bake again for 5-10 more minutes. Sprinkle basil on top, slice and enjoy!
| | | | |
| --- | --- | --- | --- |
| calories | carbs | fat | protein |
| 282 | 18.5 g | 16.2 g | 18.9 g |
| | |
| --- | --- |
| calories | 282 |
| carbs | 18.5 g |
| fat | 16.2 g |
| protein | 18.9 g |
Baked avocado boats with eggs and smoked salmon are a match made in brunch heaven! Not only is this recipe healthy, but it is also gluten-free …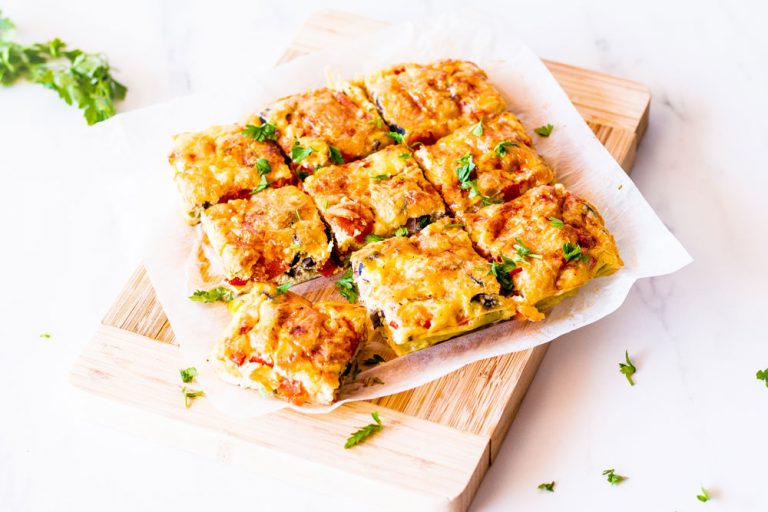 Delicious hot or cold, this easy 30-Minute Baked Egg Frittata with veggies is an efficient way to turn leftover ingredients into …
This garlic shrimp in tomato sauce with cauliflower mash is a low carb, easy to make recipe, that's packed full of flavor! Cauliflower mash …