This coconut chicken curry is a delicious meal prep idea. It's high in protein, low in carbs, and is perfect for warming you up on the cold winter days. Try it or try one of the 12 non-boring recipes below and start meal prepping today!
A little prep work on the weekend can really make a difference in helping you eat healthier, and you don't have to prep 10+ different meals to reap the benefits. Start with just one or two meals, and slowly build from there.
To start forming a habit, schedule your meal prep sesh once a week, right after you go grocery shopping, and find a core set of recipes you love and that work for your goals.
Meal Prep Ideas
From the Shop
Coconut Chicken Curry Recipe
Prep Time: 15 min | Cook Time: 55 min | Serves: 5
+ 1 medium chicken, cut into 8 portions
+ 1 onion, roughly chopped
+ 1/2 tsp fresh ginger root, grated
+ 4 garlic cloves, roughly chopped
+ 1 tomato, cut in quarters
+ 3 serrano chilies, stems removed and de-seeded
+ 2 tsp ground cumin
+ 1 tsp ground coriander
+ 1 tsp ground turmeric
+ 2 tbsp coconut oil
+ 1 cup coconut milk
+ juice of 1 lime
+ sea salt and freshly ground black pepper
+ fresh cilantro, to garnish
+ rice, buckwheat wraps or spelt tortillas, to serve

Transfer the onion, ginger, garlic, tomato, chilies, and spices to a food processor, season with sea salt and pepper and process to form a thin paste. Rub the chicken with 1/3 of the chili paste and let marinate in the fridge overnight, or for at least 1 hour.
Pre-heat oven to 400ºF / 200ºC. Roast the chicken for 30 minutes, turn the chicken over and then roast for another 20 minutes.
Meanwhile, melt the coconut oil in a large pan, pour in remaining 2/3 of the chili paste and cook over medium heat, stirring occasionally, for about 20 minutes to allow all the moisture to evaporate. Add the coconut milk and simmer for another 30 minutes until the sauce thickens.
Stir the cooked chicken into the curry pan, bring to a simmer, and cook for 5 more minutes. Remove from heat, add lime juice and sprinkle fresh cilantro on top. Serve with rice, buckwheat wraps or spelt tortillas and enjoy!
| | | | |
| --- | --- | --- | --- |
| calories | carbs | fat | protein |
| 362 | 7 g | 24.4 g | 29.7 g |
| | |
| --- | --- |
| calories | 362 |
| carbs | 7 g |
| fat | 24.4 g |
| protein | 29.7 g |
Baked avocado boats with eggs and smoked salmon are a match made in brunch heaven! Not only is this recipe healthy, but it is also gluten-free …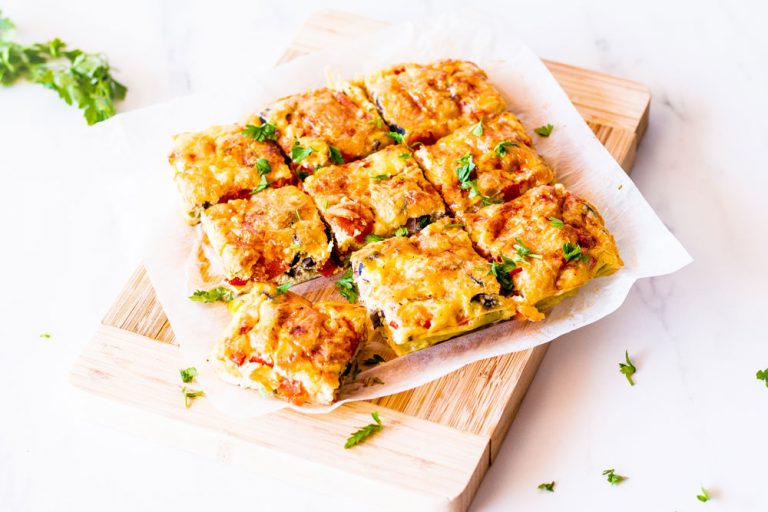 Delicious hot or cold, this easy 30-Minute Baked Egg Frittata with veggies is an efficient way to turn leftover ingredients into …
This garlic shrimp in tomato sauce with cauliflower mash is a low carb, easy to make recipe, that's packed full of flavor! Cauliflower mash …