Spring brings warm and sunny days and is one of the most exciting times of the year, but springtime isn't exempt from the occasional illness or two. Seasonal allergies, asthma flare-ups, and colds are quite common this time of year, and this mango and strawberry spring breakfast smoothie is the best way to take extra precaution against those ailments.
Mangoes are high in vitamin A, that helps fight infections and is essential for a healthy immune system; and vitamin C, which is also present in strawberries and limes, and aids in curing common cough and cold. Bananas are high in potassium, which improves lung function; ginger helps open constricted airways; and kefir contains probiotics, which are good-for-you bacteria that help prevent and even treat seasonal allergies.
From the Shop
Mango & Strawberry Spring Breakfast Smoothie Recipe
Prep Time: 5 min | Cook Time: 0 min | Serves: 1
Strawberry layer
+ 1 cup fresh strawberries, chopped
+ 1 banana
+ 1/4 cup kefir (DIY recipe here)

Mango layer
+ 1/2 mango, diced
+ juice of 1/2 lime
+ 1/2 tsp fresh ginger, minced
+ 1/4 cup coconut water

For serving
+ fresh mint leaves
+ toasted coconut flakes
+ lime slices
+ ice

Place the strawberries, banana, and kefir in a blender and puree the mixture until smooth and thick. Pour into a glass and store in the refrigerator while you make the mango layer.
Place the mango, lime juice, ginger, and coconut water in the blender and puree the mixture. Pour the mango layer on top of the strawberry layer and add ice, fresh mint leaves, lime, and coconut flakes, if desired. Serve immediately and enjoy!
| | | | |
| --- | --- | --- | --- |
| calories | carbs | fat | protein |
| 323 | 69.7 g | 3.9 g | 10.1 g |
| | |
| --- | --- |
| calories | 323 |
| carbs | 69.7 g |
| fat | 3.9 g |
| protein | 10.1 g |
Baked avocado boats with eggs and smoked salmon are a match made in brunch heaven! Not only is this recipe healthy, but it is also gluten-free …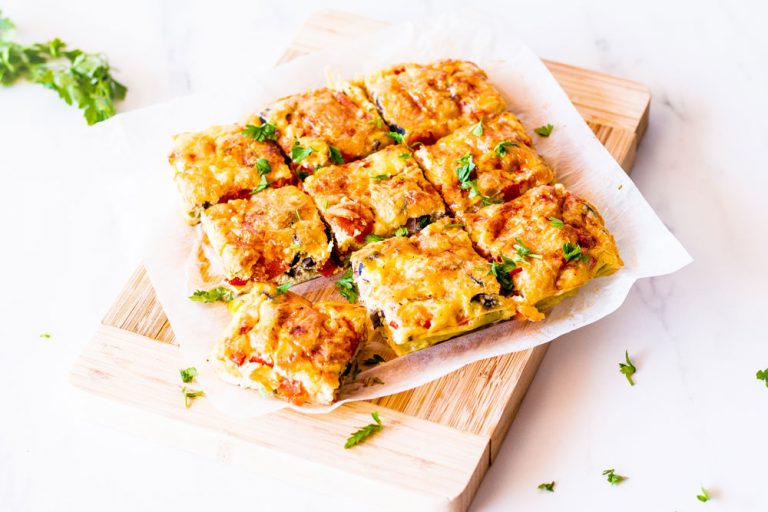 Delicious hot or cold, this easy 30-Minute Baked Egg Frittata with veggies is an efficient way to turn leftover ingredients into …
This garlic shrimp in tomato sauce with cauliflower mash is a low carb, easy to make recipe, that's packed full of flavor! Cauliflower mash …