When it comes to weight loss, complete diet makeovers can be overwhelming and are often counterproductive. Making small changes every day is way more manageable and, in the long run, more sustainable. Those small daily changes will add up over time and lead to bigger transformations with a huge impact on both your health and weight.
This low carb cauliflower and mushroom risotto is the perfect example of a simple and healthy food swap, where the rice was replaced with the cauliflower. The idea here isn't to eliminate rice from your diet, this is just an alternative for those days when you're trying to save some calories or if you just ate too much the day before and need to balance things out!
From the Shop
Low Carb Cauliflower and Mushroom Risotto Recipe
Prep Time: 10 min | Cook Time: 25 min | Serves: 2
+ 1 whole cauliflower
+ 1 cup mushrooms, roughly chopped
+ 1 medium onion, diced
+ 3 garlic cloves, minced
+ 1/3 cup homemade vegetable stock
+ 1/2 tsp sea salt
+ 1/4 tsp black pepper, freshly ground
+ 1 tbsp olive oil
+ 1 tbsp freshly chopped chives

To make the cauliflower rice: Remove the leaves from the cauliflower and break it into large florets. Rinse well and process in a food processor or break the florets into smaller pieces and grate them using a box grater.
To make the risotto: In a nonstick skillet, add olive oil, onion, and garlic and let cook over medium heat for about 1 to 2 minutes. Add the mushrooms, cook for another 3 to 5 minutes then add the cauliflower rice and cook for 2 to 3 more minutes, stirring frequently. Add the vegetable broth, stir to combine and let boil. Reduce heat, season with sea salt and pepper then cover and let simmer for about 15 minutes. Once done, remove from heat and sprinkle freshly chopped chives on top. Serve immediately and enjoy!
| | | | |
| --- | --- | --- | --- |
| calories | carbs | fat | protein |
| 131 | 15.2 g | 7.7 g | 4.7 g |
| | |
| --- | --- |
| calories | 274 |
| carbs | 30.2 g |
| fat | 15.4 g |
| protein | 8.1 g |
Baked avocado boats with eggs and smoked salmon are a match made in brunch heaven! Not only is this recipe healthy, but it is also gluten-free …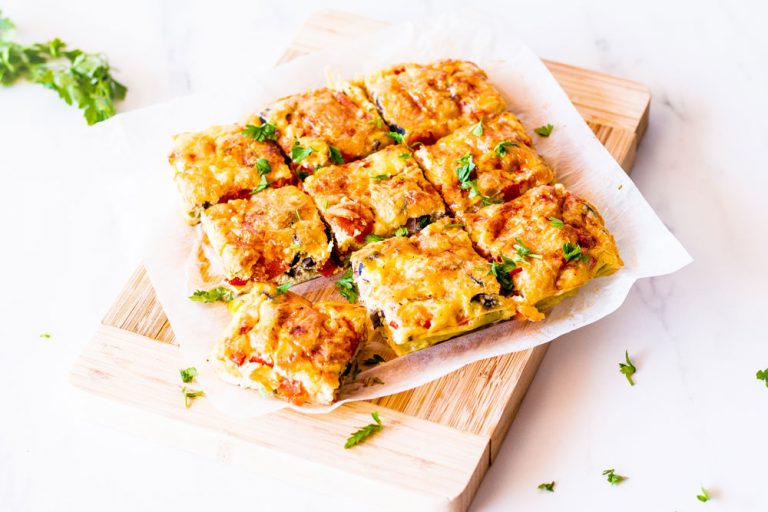 Delicious hot or cold, this easy 30-Minute Baked Egg Frittata with veggies is an efficient way to turn leftover ingredients into …
This garlic shrimp in tomato sauce with cauliflower mash is a low carb, easy to make recipe, that's packed full of flavor! Cauliflower mash …