This Loaded Mediterranean Hummus with all the yummy stuff is exactly what we need for the coming summer months! With cherry tomatoes, crunchy cucumbers, red onion, creamy hummus, and fresh pita bread, this tasty recipe is satisfying, easy to make, and bursting with nutrition!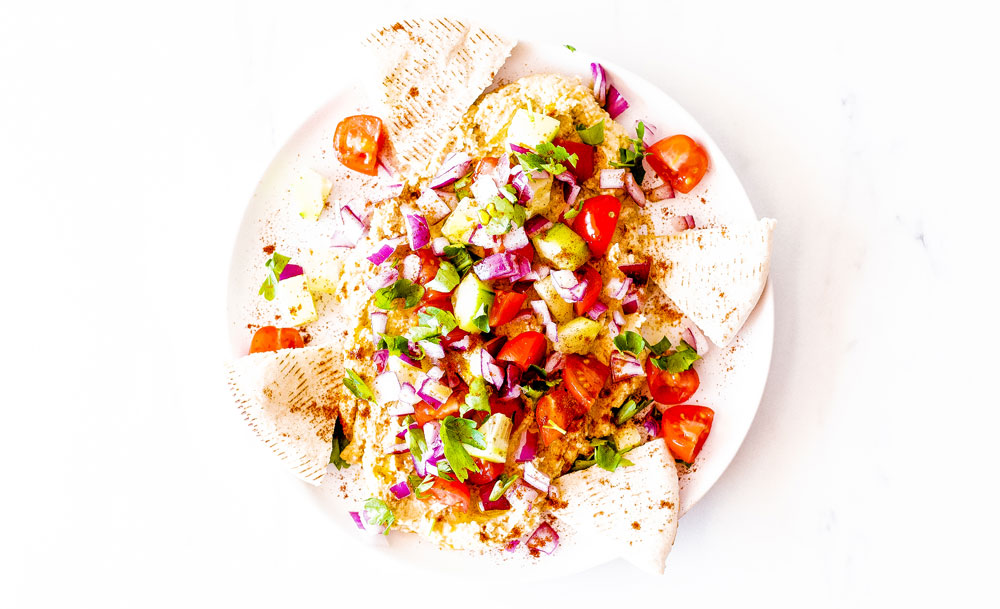 This salad is a meal, but if you prefer, you can also serve it with some sort of protein on the side. Feta cheese, fried halloumi, grilled chicken … these are just a few ideas that are sure to satisfy even the biggest of cravings!
From the Shop
Loaded Mediterranean Hummus Recipe
Prep Time: 15 min | Cook Time: 0 min | Serves: 4
+ 1 cup Basic Hummus Recipe
+ 1 1/2 cups cherry tomatoes, quartered
+ 4 cucumbers, diced
+ 1/4 red onion, small dice
+ 2 tbsp olive oil
+ 2 tbsp parsley, finely chopped
+ pinch of paprika
+ sea salt and freshly ground black pepper, to taste
+ 4 pita bread

Spread the hummus on a serving platter and top with cherry tomatoes, cucumbers, and red onion. Sprinkle parsley and paprika on top, drizzle with olive oil, and season with sea salt and pepper. Serve with freshly baked pita bread and enjoy!
| | | | |
| --- | --- | --- | --- |
| calories | carbs | fat | protein |
| 381 | 47 g | 18.7 g | 11.5 g |
| | |
| --- | --- |
| calories | 381 |
| carbs | 47 g |
| fat | 18.7 g |
| protein | 11.5 g |
With just a few simple ingredients and no-cooking required, you can make your homemade version of the trendy …
These three cold-brewed summer tea recipes are extremely refreshing and perfect for helping you stay hydrated during the hot summer months …
Garlic, ginger, chili, sesame oil, tamari sauce, and honey is all you need to prepare an incredible marinade that comes together fast …