These Light & Simple Baked Crab Cakes are low in fat, and each cake only contains around 50 calories. They're made with simple, wholesome ingredients, and you can serve them with a fresh green salad, oven-roasted veggies, or our delicious summer gazpacho.
Crab meat has a soft, delicate, and sweet taste, and it contains almost as much protein per gram as meat. The protein available in crab is high quality and very digestible for people of all ages. And it's not just protein! Crab is also a great source of omega-3 fatty acids, important minerals like selenium, phosphorus, zinc, and copper, and vitamins B12, B6, niacin, and folate.
From the Shop
Light & Simple Baked Crab Cakes Recipe
Prep Time: 10 min | Cook Time: 15 min | Yields: 8 crab cakes
+ 1 egg, lightly beaten
+ 1 tbsp Dijon mustard
+ juice of 1 lemon juice
+ 2 garlic cloves, minced
+ 1/2 jalapeno, minced
+ 1 green onion, chopped
+ 1/2 tsp paprika
+ sea salt and freshly ground black pepper, to taste
+ 8 oz (225 g) crab meat
+ 1/2 cup homemade breadcrumbs
+ 2 tbsp flaxseed meal
+ homemade tzatziki sauce, to serve

Pre-heat oven to 400ºF / 200ºC. In a large bowl, whisk together egg, mustard, lemon juice, garlic, jalapeno, green onion, paprika, salt, and black pepper. Stir in crab meat, breadcrumbs, flaxseed meal, and mix well.
Shape mixture into 8 crab cakes and place onto a lined baking sheet. Bake in preheated oven for 15 minutes until nicely browned.
Transfer the crab cakes to plates and serve with tzatziki sauce. Enjoy!
| | | | |
| --- | --- | --- | --- |
| calories | carbs | fat | protein |
| 53 | 6.3 g | 1.4 g | 3.6 g |
| | |
| --- | --- |
| calories | 53 |
| carbs | 6.3 g |
| fat | 1.4 g |
| protein | 3.6 g |
Baked avocado boats with eggs and smoked salmon are a match made in brunch heaven! Not only is this recipe healthy, but it is also gluten-free …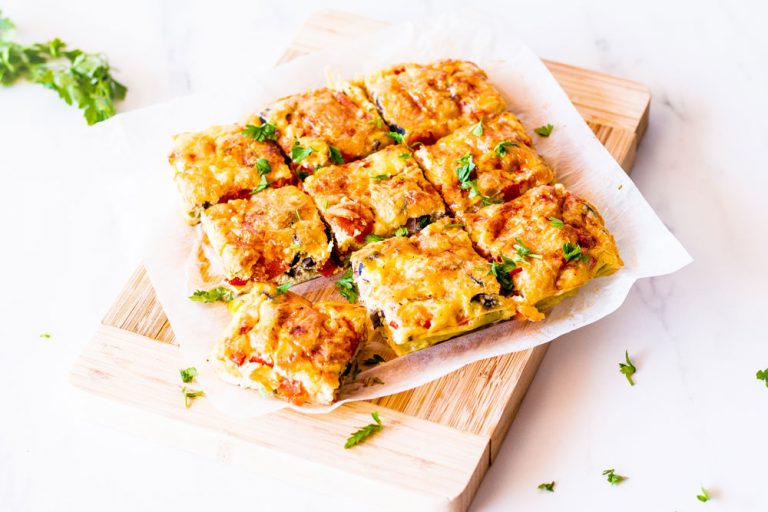 Delicious hot or cold, this easy 30-Minute Baked Egg Frittata with veggies is an efficient way to turn leftover ingredients into …
This garlic shrimp in tomato sauce with cauliflower mash is a low carb, easy to make recipe, that's packed full of flavor! Cauliflower mash …