This naturally vegan and gluten-free Lentil & Tomato Soup with Kale Chips is the best! It's full of healthy, fresh, and delicious ingredients, perfect for chilly winter nights, and so delicious. It's pure comfort in a bowl and the ideal recipe to warm your soul!
And if you're looking for a healthy snack that will satisfy your need for something crunchy or crispy, the kale crisps are right up your alley. Olive oil and sea salt is all you need to turn fresh kale leaves into delicious good-for-you baked snacks.
From the Shop
Lentil & Tomato Soup with Kale Chips Recipe
Prep Time: 5 min | Cook Time: 20 min | Serves: 4
Lentil & Tomato Soup
+ 1 tbsp olive oil
+ 1 onion, chopped
+ 3 garlic cloves, minced
+ 1 fresh rosemary sprig
+ 2 tsp sweet smoked paprika
+ 1 cup red lentils
+ 4 tomatoes, chopped
+ 5 cups homemade vegetable stock
+ sea salt and freshly ground black pepper, to taste
+ 3 tsp lemon juice

Kale Chips
+ 5-6 kale leaves
+ 1 tbsp olive oil
+ pinch of sea salt

To make the soup: Heat the olive oil in a large saucepan over medium heat. Add the onion and cook for 2-3 minutes, until softened. Then add garlic, rosemary, paprika, and lentils, and cook for 1-2 minutes, stirring frequently. Pour in tomatoes and stock, bring to a boil, then simmer for 15 minutes until the lentils are tender. Season to taste with sea salt, black pepper, and lemon juice.
To make the kale chips: Preheat oven to 350ºF (175ºC). Tear kale leaves into bite-size pieces, then wash and dry thoroughly. Drizzle kale with olive oil, spread out leaves over a large baking tray, and sprinkle with salt. Bake for 8-10 minutes until crisp.
Serve soup in bowls topped with crispy kale and enjoy!
| | | | |
| --- | --- | --- | --- |
| calories | carbs | fat | protein |
| 296 | 43 g | 10.3 g | 14.9 g |
| | |
| --- | --- |
| calories | 296 |
| carbs | 43 g |
| fat | 10.3 g |
| protein | 14.9 g |
Baked avocado boats with eggs and smoked salmon are a match made in brunch heaven! Not only is this recipe healthy, but it is also gluten-free …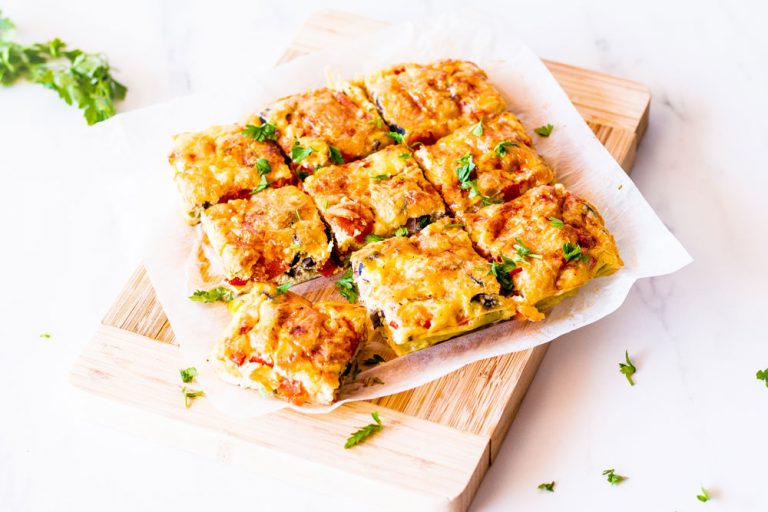 Delicious hot or cold, this easy 30-Minute Baked Egg Frittata with veggies is an efficient way to turn leftover ingredients into …
This garlic shrimp in tomato sauce with cauliflower mash is a low carb, easy to make recipe, that's packed full of flavor! Cauliflower mash …