Garlic, ginger, chili, sesame oil, tamari sauce, and honey is all you need to prepare an incredible marinade that comes together fast and makes for flavorful, juicy pork every time! And this easy Honey-Soy Caramelized Pork Bowl is the proof that with only a few fresh ingredients, you can create delicious meals that are sure to impress!
Like all meat, pork is a high-protein food, great for muscle growth and maintenance, and rich in many vitamins and minerals. It's an excellent source of thiamin and selenium and a good source of niacin, riboflavin, vitamin B6, vitamin B12, phosphorus, zinc, iron, and potassium.
From the Shop
Honey-Soy Caramelized Pork Bowl Recipe
Prep Time: 10 min | Cook Time: 10 min | Serves: 4
+ 1 1/2 lb (680 g) pork tenderloin, thinly sliced
+ 2 tbsp tamari or soy sauce
+ 1 1/2 tbsp honey
+ 2 tsp toasted sesame oil
+ 1 small piece ginger, peeled and finely grated
+ 1 garlic clove, minced
+ 1/2 dried red chili, seeded and thinly sliced
+ sea salt, to taste
+ 2 tbsp olive oil
+ 2 medium carrots, peeled and thinly sliced
+ 1 bunch kale, ribs and stems removed and julienned
+ 2 cups rice, cooked (learn here how to soak and cook whole grains)
+ 2 tbsp green onions, sliced

Combine tamari, honey, sesame oil, ginger, garlic, and chili in a medium bowl. Add pork to the marinade and let sit for at least 10 minutes.
Heat 1 tbsp olive oil in a large nonstick skillet over medium-high heat. When the oil is hot, add pork in a single layer and season with salt. Cook for about 1 minute, until browned. Toss pork and continue to cook, tossing, until cooked through, about 1 more minute.
Clean skillet and heat remaining olive oil over medium-high heat. Add carrots and cook for about 2 minutes until slightly brown, then add kale and toss to wilt. Cook, tossing occasionally, until vegetables are crisp-tender, about 2 more minutes.
To serve, divide rice among bowls, arrange pork and vegetables over and sprinkle green onions on top. Enjoy!
| | | | |
| --- | --- | --- | --- |
| calories | carbs | fat | protein |
| 508 | 41.5 g | 15.5 g | 49.9 g |
| | |
| --- | --- |
| calories | 508 |
| carbs | 41.5 g |
| fat | 15.5 g |
| protein | 49.9 g |
Baked avocado boats with eggs and smoked salmon are a match made in brunch heaven! Not only is this recipe healthy, but it is also gluten-free …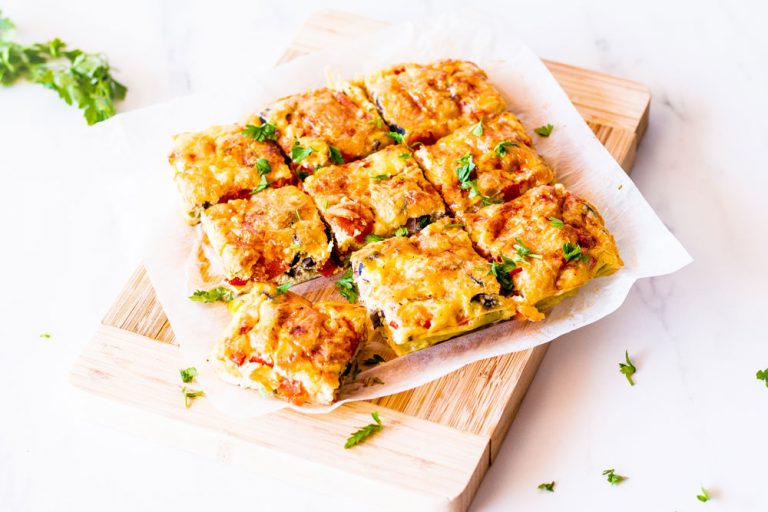 Delicious hot or cold, this easy 30-Minute Baked Egg Frittata with veggies is an efficient way to turn leftover ingredients into …
This garlic shrimp in tomato sauce with cauliflower mash is a low carb, easy to make recipe, that's packed full of flavor! Cauliflower mash …