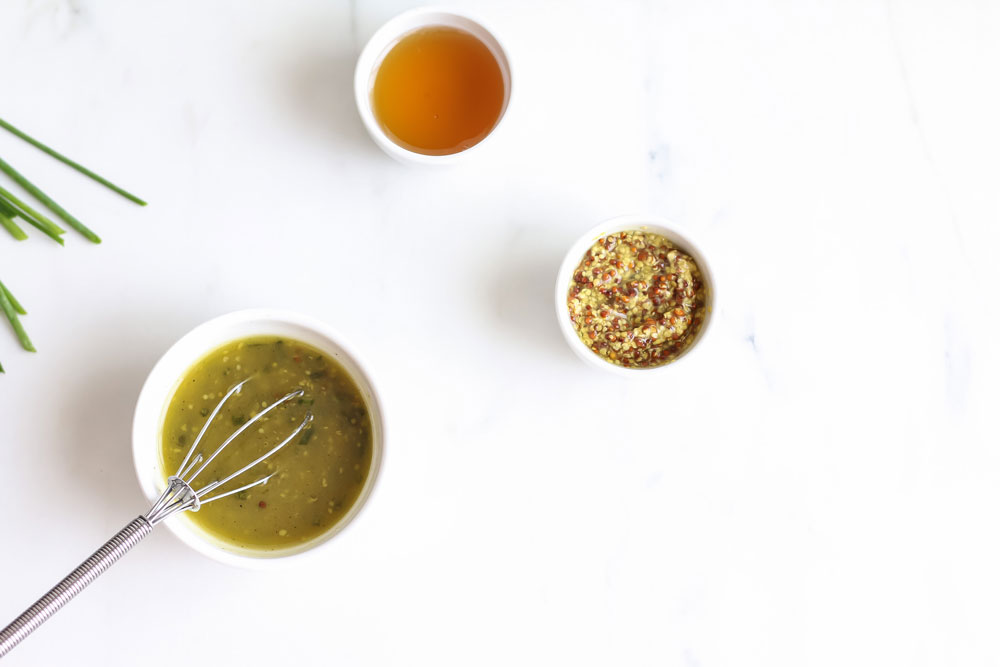 Simple salad dressings, like this homemade honey mustard vinaigrette, are very easy and quick to prepare at home with only a few pantry staples. Olive oil and apple cider vinegar are the two basic components in this healthier version of the classic French vinaigrette, and they're both well known for their health and beauty benefits. The sweetness of the honey and the pungency of the Dijon mustard pairs really well with leafy bitter greens such as arugula, kale, radicchio or turnip greens.
Honey Mustard Salad Dressing Recipe
Prep Time: 5 min | Cook Time: 0 min | Yields: 1/4 cup
+ 2 tbsp olive oil
+ 1 tbsp apple cider vinegar
+ 1 tsp raw honey or pure maple syrup
+ 1 tsp Dijon mustard
+ 1 tbsp finely chopped fresh chives
+ sea salt and pepper to taste
Whisk vinegar, honey, mustard, and chives in a small bowl and then slowly whisk in olive oil. Serve it as a salad dressing or on top of grilled or poached fish. Enjoy!
| calories | carbs | fat | protein |
| --- | --- | --- | --- |
| 67 | 1.6 g | 7.1 g | 0.1 g |
you might also like