Because it's summer and because savory fruit salads are definitely a thing, we used some of the season's greatest hits to prepare this healthy mango, avocado, and shrimp salad. When preparing your salads, take advantage of summer's abundance and use seasonal foods. They provide us with extra beta-carotene and other carotenoids that help protect us against sun damage.
To make this summery salad, we used mango, which delivers a healthy dose of vitamins, minerals, and enzymes; avocado, rich in heart-healthy monounsaturated fat; and shrimp, which provide protein and a pretty impressive array of nutrients. Serve it outside, on a picnic table, and with a pitcher of fresh ice-cold lemonade!
From the Shop
Healthy Mango, Avocado & Shrimp Salad Recipe
Prep Time: 15 min | Cook Time: 3 min | Serves: 2
+ 6 ounces (170 g) medium shrimp, peeled and deveined
+ 1 cup cooked quinoa (learn here how to soak and cook grains)
+ 1/2 mango, sliced into small cubes
+ 1 avocado, sliced into small cubes
+ 1/2 cup cherry tomatoes, cut in quarters
+ 1 onion, thinly sliced
+ 2 garlic cloves, minced
+ 1/2 chili pepper, thinly sliced
+ 1/4 cup fresh cilantro leaves, chopped
+ juice of 1 lime
+ 1 tbsp olive oil
+ sea salt and freshly ground black pepper, to taste

To steam the shrimps: In a large pot, bring 3 to 4 cups of water to a boil. Place shrimp in a steamer basket and position on top of the pot without submerging. Steam until pink, about 2-3 minutes depending on the size of the shrimp. Let cool, then peel shrimp and devein.
In a medium bowl combine sliced mango, avocado, cherry tomatoes, onion, garlic, chili, cilantro and season with olive oil, lime juice, sea salt and black pepper.
Divide the quinoa equally between two plates and serve with steamed shrimps and mango salad. Enjoy!
| | | | |
| --- | --- | --- | --- |
| calories | carbs | fat | protein |
| 598 | 69.2 g | 25.2 g | 29.7 g |
| | |
| --- | --- |
| calories | 598 |
| carbs | 69.2 g |
| fat | 25.2 g |
| protein | 29.7 g |
Baked avocado boats with eggs and smoked salmon are a match made in brunch heaven! Not only is this recipe healthy, but it is also gluten-free …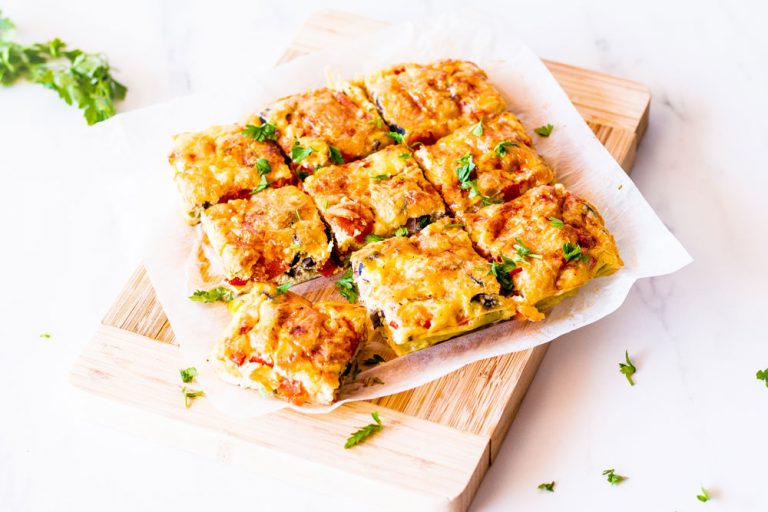 Delicious hot or cold, this easy 30-Minute Baked Egg Frittata with veggies is an efficient way to turn leftover ingredients into …
This garlic shrimp in tomato sauce with cauliflower mash is a low carb, easy to make recipe, that's packed full of flavor! Cauliflower mash …