These Healthy Baked Vegetarian Mushroom Meatballs are a great meatless option, full of flavor, delicious, and simple to prepare. They are soft and moist and have a wonderful earthy and nutty taste. You can garnish them with fresh parsley, grated Parmesan cheese and serve with rice, quinoa, pasta, or a fresh salad.
Most people consume way too much meat on a daily basis and, cutting back on meat even a little bit, could have a significant impact on your health. We're not saying you need to go vegan to be healthy. But you should aim to only eat meat or fish 3 to 4 times per week. This means that ideally, you should only eat meat or fish once a day, and should try to keep your other meals either vegetarian or vegan.
From the Shop
Healthy Baked Vegetarian Mushroom Meatballs Recipe
Prep Time: 10 min | Cook Time: 45 min | Serves: 4
+ 3 medium potatoes, cut into cubes
+ 1 carrot, cut into small cubes
+ 1 tsp butter or ghee
+ 1/2 tsp ground nutmeg
+ 1 tbsp olive oil
+ 1 garlic clove, minced
+ 2 cups (about 10) fresh mushrooms, sliced
+ 1/4 cup fresh parsley, finely chopped
+ sea salt and freshly ground black pepper, to taste

Preheat oven to 350ºF / 180ºC. Place the carrot and potatoes in a large saucepan. Cover with water and bring to a boil. Cook for about 15 minutes, until tender. Drain the carrot and potatoes, add ghee, nutmeg, and mash until smooth.
Meanwhile, heat olive oil in a frying pan, add garlic and cook for about 30 seconds. Add mushrooms and saute for 5-7 minutes over medium heat or until all the liquid evaporates. Sprinkle parsley on top.
Mix the mushrooms with the purée and season with salt and pepper. Take a tablespoon of the mushroom-purée mixture onto your palm and shape into meatballs.
Place the mushroom meatballs in the oven and cook for about 20 minutes. Serve with a green salad and enjoy!
| | | | |
| --- | --- | --- | --- |
| calories | carbs | fat | protein |
| 167 | 28.6 g | 4.8 g | 4.4 g |
| | |
| --- | --- |
| calories | 167 |
| carbs | 28.6 g |
| fat | 4.8 g |
| protein | 4.4 g |
Baked avocado boats with eggs and smoked salmon are a match made in brunch heaven! Not only is this recipe healthy, but it is also gluten-free …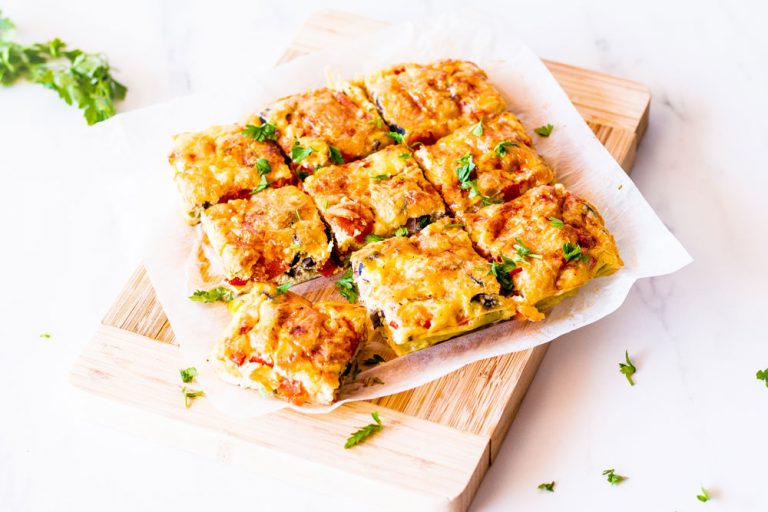 Delicious hot or cold, this easy 30-Minute Baked Egg Frittata with veggies is an efficient way to turn leftover ingredients into …
This garlic shrimp in tomato sauce with cauliflower mash is a low carb, easy to make recipe, that's packed full of flavor! Cauliflower mash …