These Grilled Pork Medallions with Salsa Verde are an easy and delicious dish, perfect for summer entertaining. Pork is a nutritious and versatile meat that offers a wide range of important nutrients. It's rich in high-quality protein and an excellent source of many vitamins and minerals, including B-vitamins, selenium, iron, zinc, and phosphorus.
Moderate consumption of lean pork, as part of a healthy diet, helps improve muscle function, boosts exercise performance, and promotes muscle growth and maintenance.
Salsa verde, or green sauce, is a cold, uncooked sauce, made with lovely herbs that complement grilled meat, fish, or vegetables perfectly. For a well-rounded dinner, pair this dish with roasted or sauteed vegetables, or nothing but a crisp salad. Yum!
From the Shop
Grilled Pork Medallions with Salsa Verde Recipe
Prep Time: 5 min | Cook Time: 5 min | Serves: 2
+ 5 oz / 140 g pork fillet, trimmed, cut into 8 pieces, lightly pounded
+ 1/4 cup minced fresh parsley
+ 1/4 cup minced fresh basil
+ 1/2 small onion or shallot, finely chopped
+ 1 garlic clove, thinly sliced
+ 2 tbsp extra-virgin olive oil
+ 1 tbsp apple cider vinegar
+ sea salt and freshly ground black pepper, to taste

To make the salsa verde, combine the fresh herbs, onion, garlic, oil, and vinegar in a medium-size bowl and season with salt and pepper.
Meanwhile, heat the grill over medium-high heat, season the pork with salt and pepper and cook, turning once, until golden brown and cooked through, about 2-3 minutes per side.
Add a spoonful of the salsa verde over the tops of the pork medallions and serve with a green salad or roasted vegetables. Enjoy!
| | | | |
| --- | --- | --- | --- |
| calories | carbs | fat | protein |
| 294 | 1.9 g | 23 g | 20 g |
| | |
| --- | --- |
| calories | 294 |
| carbs | 1.9 g |
| fat | 23 g |
| protein | 20 g |
Baked avocado boats with eggs and smoked salmon are a match made in brunch heaven! Not only is this recipe healthy, but it is also gluten-free …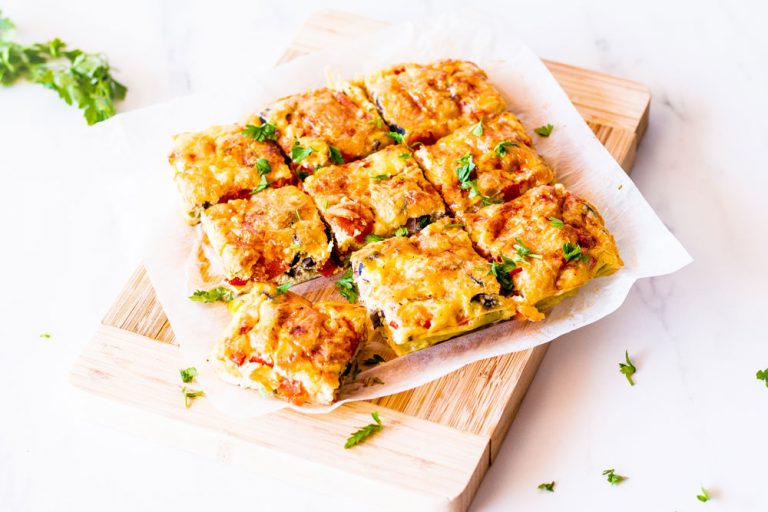 Delicious hot or cold, this easy 30-Minute Baked Egg Frittata with veggies is an efficient way to turn leftover ingredients into …
This garlic shrimp in tomato sauce with cauliflower mash is a low carb, easy to make recipe, that's packed full of flavor! Cauliflower mash …