Salads have a reputation for being rather basic, but this grilled chicken and veggies low-carb summer salad is far from being boring. The sweet caramelized onions mixed with the crispy roasted asparagus and the fresh raw tomatoes make a delicious contrast of flavors and textures.
This salad is rich in protein, vitamins, minerals, and phytonutrients, and it includes vegetables from 4 of the 5 main color families, discussed here as part of the Beginner Edition. But if you're not following a low-carb diet, you can make it whole by simply adding some boiled potatoes!
From the Shop
Grilled Chicken & Veggies Low-Carb Summer Salad Recipe
Prep Time: 5 min | Cook Time: 12 min | Serves: 2
+ 1/2 pound chicken breasts, boneless and skinless
+ 2 tomatoes, halved
+ 2 tbsp caramelized red onions (homemade recipe here)
+ 8 asparagus
+ 1/4 cucumber, sliced
+ 6-8 cherry tomatoes, halved
+ 2 cups green leafy vegetables (arugula, lettuce, spinach)
+ 2 tbsp honey mustard dressing (DIY recipe here)
+ sea salt and freshly ground black pepper, to taste

Season chicken, tomatoes, and asparagus with salt and pepper and preheat grill to high heat. Grill asparagus for 2-3 minutes and grill tomatoes and chicken for 12 minutes or until cooked through, turning occasionally.
Combine green leafy vegetables in a large bowl. Add 1 tablespoon dressing and toss to coat. Top with chicken, roasted tomatoes, red onions, asparagus, cucumber, and cherry tomatoes. Sprinkle salad with remaining dressing and serve. Enjoy!
| | | | |
| --- | --- | --- | --- |
| calories | carbs | fat | protein |
| 349 | 15.5 g | 16 g | 37 g |
| | |
| --- | --- |
| calories | 349 |
| carbs | 15.5 g |
| fat | 16 g |
| protein | 37 g |
Baked avocado boats with eggs and smoked salmon are a match made in brunch heaven! Not only is this recipe healthy, but it is also gluten-free …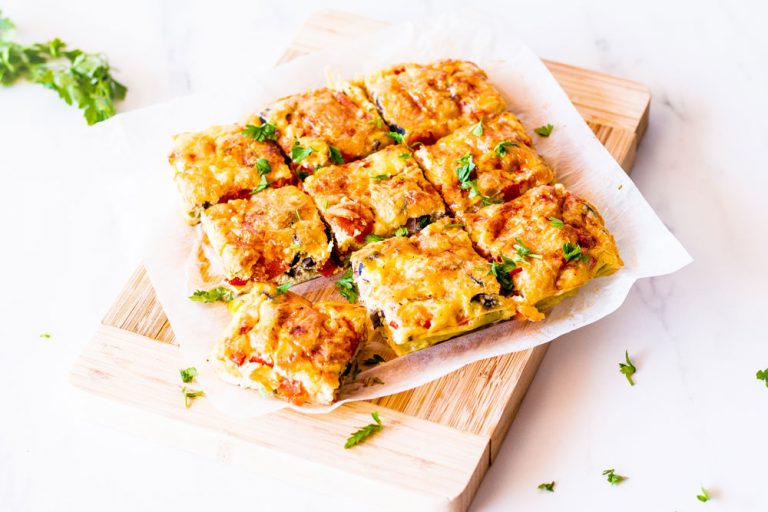 Delicious hot or cold, this easy 30-Minute Baked Egg Frittata with veggies is an efficient way to turn leftover ingredients into …
This garlic shrimp in tomato sauce with cauliflower mash is a low carb, easy to make recipe, that's packed full of flavor! Cauliflower mash …