If you're looking for a mayonnaise alternative, or just want to mix things up, give this homemade, super smooth avocado mayo a try. Spread it on bread, pour over raw or cooked veggies in salads, or use it as a dipping sauce!
With just mozzarella, lettuce, cucumber, and some sprouts, you can create this simple, healthy sandwich. High-protein, crunchy, and no fuss, this is the easiest lunch ever!
From the Shop
Green Sandwich with Avocado Mayo Recipe
Prep Time: 10 min | Cook Time: 0 min | Serves: 2
Avocado mayo
+ 1 avocado
+ 2 tsp lemon juice
+ 1/4 cup Greek yogurt (learn here how to make Greek yogurt at home)
+ 1/2 tsp onion powder
+ 1/4 tsp garlic powder
+ pinch of cayenne pepper
+ sea salt and freshly ground black pepper, to taste

For serving
+ juice of 1/2 lemon
+ 1 tbsp olive oil
+ 1 cup lettuce
+ 1/4 cucumber, thinly sliced
+ 4 oz (115 g) fresh mozzarella, sliced
+ 1/2 cup sprouts
+ 4 slices bread

To make the avocado mayo: Combine all the ingredients in a blender and blend until smooth.
Squeeze lemon juice over lettuce and cucumbers in a medium bowl. Drizzle with olive oil and toss to coat.
Spread all the bread slices with avocado mayo. Arrange lettuce and cucumbers over. Top with mozzarella and sprouts, close sandwiches and enjoy!
| | | | |
| --- | --- | --- | --- |
| calories | carbs | fat | protein |
| 590 | 43.6 g | 35 g | 31.1 g |
| | |
| --- | --- |
| calories | 590 |
| carbs | 43.6 g |
| fat | 35 g |
| protein | 31.1 g |
Baked avocado boats with eggs and smoked salmon are a match made in brunch heaven! Not only is this recipe healthy, but it is also gluten-free …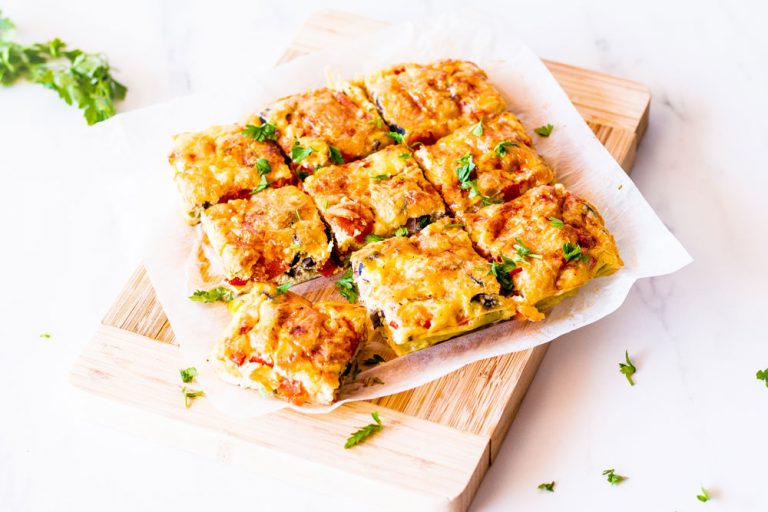 Delicious hot or cold, this easy 30-Minute Baked Egg Frittata with veggies is an efficient way to turn leftover ingredients into …
This garlic shrimp in tomato sauce with cauliflower mash is a low carb, easy to make recipe, that's packed full of flavor! Cauliflower mash …