When you don't have a plan for dinner, it's easy to slip up and make poor last-minute decisions. This green pea and cauliflower soup is the perfect last-minute meal, it only takes 30 minutes to make and is extremely healthy, nutrient-dense and packed with flavor.
Cauliflower, turmeric, and green peas go together to make this easy and hearty soup that's rich in protein, calcium, potassium, iron, phosphorus, and vitamin C. The green peas give the soup a slightly sweet taste and a dollop of Greek yogurt and fresh mint leaves at the end balances everything out.
From the Shop
Green Pea & Cauliflower Soup Recipe
Prep Time: 5 min | Cook Time: 25 min | Serves: 4
+ 3 cups fresh or frozen green peas
+ 7 oz (200 g) cauliflower, finely chopped
+ 1 turnip, finely chopped
+ 1 onion, thinly sliced
+ 1 celery stalk, finely chopped
+ 2 garlic cloves, minced
+ 1/4 cup fresh cilantro, chopped
+ 3 cups water or homemade vegetable stock
+ 1 tsp turmeric
+ 1 tsp sea salt
+ 1 tbsp olive oil

For serving:
+ fresh mint leaves
+ freshly ground black pepper
+ homemade Greek yogurt
+ homemade plant-based protein

Add peas, cauliflower, turnip, onion, celery, garlic, cilantro, sea salt, turmeric, and water or vegetable stock to a large cooking pot. Bring to a boil, then reduce the heat and let simmer for about 25 minutes.
Turn off the heat, add olive oil and in a blender or with a hand blender, puree soup until you get a velvety cream.
Ladle into bowls, season with freshly ground black pepper and top with dollops of Greek yogurt and mint leaves. Serve with plant-based protein. This soup can be refrigerated (without the yogurt) for up to 4 days. Enjoy!
| | | | |
| --- | --- | --- | --- |
| calories | carbs | fat | protein |
| 117 | 16.7 g | 3.9 g | 5.4 g |
| | |
| --- | --- |
| calories | 117 |
| carbs | 16.7 g |
| fat | 3.9 g |
| protein | 5.4 g |
Baked avocado boats with eggs and smoked salmon are a match made in brunch heaven! Not only is this recipe healthy, but it is also gluten-free …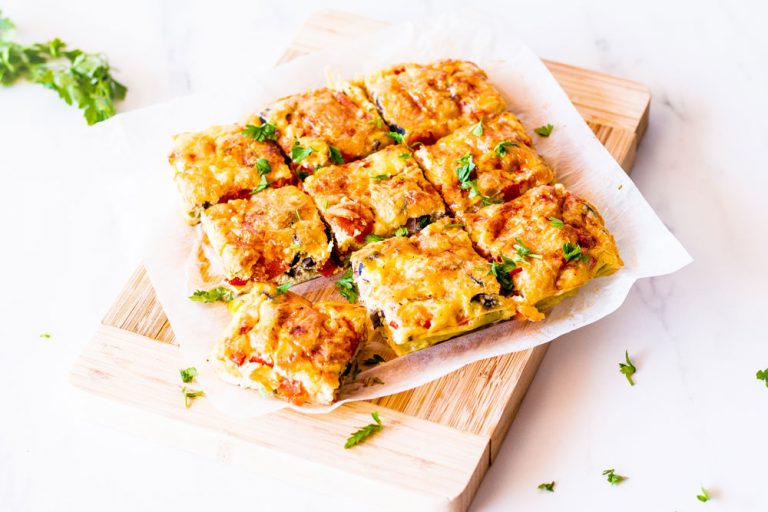 Delicious hot or cold, this easy 30-Minute Baked Egg Frittata with veggies is an efficient way to turn leftover ingredients into …
This garlic shrimp in tomato sauce with cauliflower mash is a low carb, easy to make recipe, that's packed full of flavor! Cauliflower mash …