These crunchy carob cookies are gluten-free, sugar-free, and full of good-for-you ingredients like almonds, oats, sesame seeds, and ghee. They're sweetened with only date syrup and carob powder and are perfect for those moments when a cookie craving strikes! Enjoy them with a cup of unsweetened tea, chicory coffee, or kombucha.
Carob flour or powder is a great cacao alternative. It's made from dried, roasted carob tree pods, it looks a lot like cocoa powder, and if you're trying to cut back on the amount of sugar you consume, you can use carob powder as a natural sweetener in baked goods. It has a unique and slightly sweet taste and is rich in fiber, calcium, copper, potassium, manganese, and vitamins B2, B3, and B6.
From the Shop
Gluten-Free & Sugar-Free Crunchy Carob Cookies Recipe
Prep Time: 5 min | Cook Time: 10 min | Yields: 30 cookies
+ 1 cup carob powder
+ 1 cup almond flour
+ 1/2 cup oat flour
+ 2 tbsp sesame seeds
+ 1/4 cup ghee, melted (DIY recipe here)
+ 1/4 cup date syrup (DIY recipe here)
+ 1/2 vanilla bean, seeds and pulp only
+ 1/2 tsp baking soda
+ 1 tsp lemon juice
+ pinch of sea salt
Preheat oven to 350°F (180°C). In a large bowl, combine the flours, seeds, vanilla bean, sea salt, and baking soda. In a small bowl, whisk together the melted ghee, date syrup, and lemon. Pour the wet ingredients into the dry and mix until combined.
Drop the dough by teaspoons, 1 inch apart, onto one baking sheet, then use your hands, to gently flatten and shape them. Bake in the hot oven for 10 minutes until done.
Let cool for 2 minutes, then transfer cookies to a wire rack to cool completely. Enjoy!
| | | | |
| --- | --- | --- | --- |
| calories | carbs | fat | protein |
| 37 | 4.9 g | 2.4 g | 0.6 g |
| | |
| --- | --- |
| calories | 37 |
| carbs | 4.9 g |
| fat | 2.4 g |
| protein | 0.6 g |
Baked avocado boats with eggs and smoked salmon are a match made in brunch heaven! Not only is this recipe healthy, but it is also gluten-free …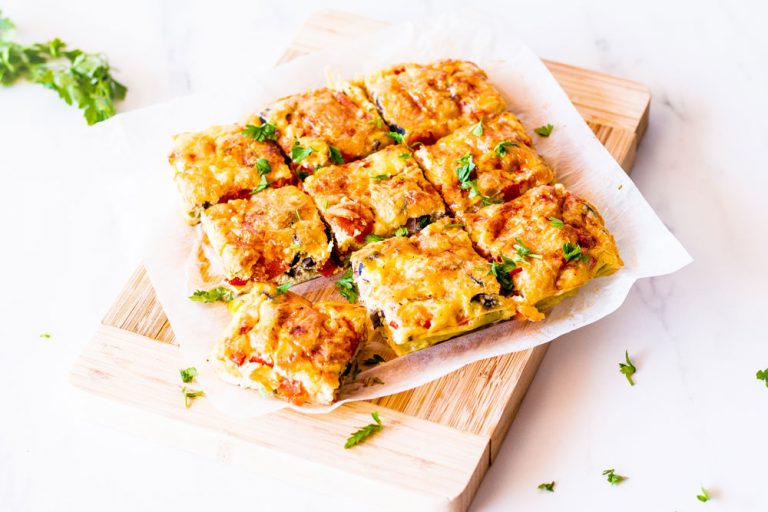 Delicious hot or cold, this easy 30-Minute Baked Egg Frittata with veggies is an efficient way to turn leftover ingredients into …
This garlic shrimp in tomato sauce with cauliflower mash is a low carb, easy to make recipe, that's packed full of flavor! Cauliflower mash …