If you're allergic or intolerant to gluten, or if you just want to cut down on your gluten consumption but still feel full and satiated after a meal, you can start replacing wheat flour with chickpea flour in some of your favorite recipes. These Gluten-Free Stovetop Socca Pancakes are very easy to make, tasty, and a great base for you to add your favorite toppings.
You can eat these pancakes with any meal, sweet or savory, and they're a great make-ahead food. Next time you're in the mood, make a huge batch, freeze them, and then reheat whenever you want. Or, if you end up making too many pancakes in one batch, toss the leftovers in the freezer, wrapped in foil, and store for up to 2 days.
From the Shop
Gluten-Free Stovetop Socca Pancakes 2 Ways Recipe
Prep Time: 5 min + resting time | Cook Time: 20 min | Serves: 6 soccas
+ 1 cup chickpea flour
+ 1 cup water
+ 1/2 tsp sea salt
+ 1 tbsp olive oil

Toppings
+ arugula
+ feta cheese
+ olives
+ roasted pepper (DIY recipe here)
+ olive oil
+ salad greens
+ canned tuna
+ cherry tomatoes
+ fresh parsley
+ parmesan cheese

Whisk the chickpea flour, water, and salt in a medium bowl until smooth and let rest for at least half an hour. Heat a cast-iron skillet over medium to high heat. Add a little olive oil and pour in 1/6 of the batter. Quickly spread the batter using a spatula and, once small bubbles start to appear, about 2-3 minutes, flip the socca and cook for one more minute on the other side. Remove from heat, and repeat the process 5 more times.
For a Greek-inspired socca, arrange arugula, feta cheese, olives, and roasted pepper evenly across the pancake and finish with a drizzle of olive oil. For the tuna pancake, add salad greens, tuna, tomatoes, parsley, and top with parmesan cheese. Enjoy!
| | | | |
| --- | --- | --- | --- |
| calories | carbs | fat | protein |
| 79 | 8.9 g | 3.4 g | 3.4 g |
| | |
| --- | --- |
| calories | 79 |
| carbs | 8.9 g |
| fat | 3.4 g |
| protein | 3.4 g |
Baked avocado boats with eggs and smoked salmon are a match made in brunch heaven! Not only is this recipe healthy, but it is also gluten-free …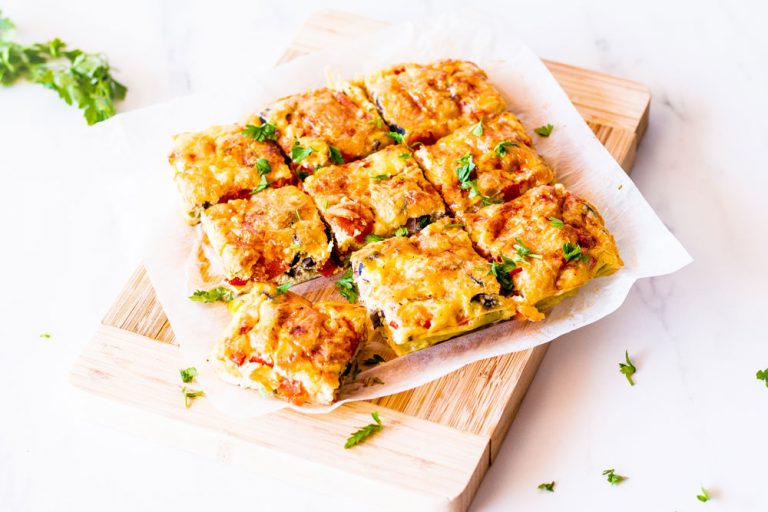 Delicious hot or cold, this easy 30-Minute Baked Egg Frittata with veggies is an efficient way to turn leftover ingredients into …
This garlic shrimp in tomato sauce with cauliflower mash is a low carb, easy to make recipe, that's packed full of flavor! Cauliflower mash …