If you're vegetarian, or if you're trying to limit your consumption of meat and fish to only once a day, then chances are you're probably eating too much soy. We love all the fermented soy options available, such as tempeh, miso, and tamari sauce, but it's important to keep your diet as balanced as possible. As we all know, too much of anything is never a good thing, so skip the textured soy protein and learn how to make this gluten-free plant-based loaf at-home!
This loaf is rich in protein, calcium, magnesium, phosphorus, zinc, and omegas 3 and 6 but you can use this recipe as a template and play with different flours, seeds, spices, and condiments to add other nutrients and make it your own. Just make sure the wet/dry ingredients ratio is similar so that you get the same consistency.
This recipe is also quite versatile and, once cooked, you can slice it or cut it into cubes and add to soups, stews, stir-fries, chili, you can also bread it, use in sandwiches, nourish bowls … It's totally up to you!
From the Shop
Gluten-Free Plant-Based Loaf Recipe
Prep Time: 10 min | Cook Time: 25 min | Serves: 4
Plant-Based Loaf:
+ 1 cup chickpea flour
+ 1/2 cup brown rice flour
+ 2 tbsp carrots, shredded
+ 1 tbsp flaxseeds, finely ground
+ 1 tbsp chia seeds
+ 1/2 tbsp nutritional yeast
+ 1 tsp garlic powder
+ 1 tsp dried basil
+ 1/2 tsp turmeric
+ 1/2 tsp cumin
+ 1 tbsp olive oil
+ 2 tbsp tamari sauce
+ 1/2 cup water

Loaf Stock:
+ 2 cups water
+ 1 onion, diced
+ 2 garlic cloves, minced
+ 1 medium tomato, roughly chopped
+ bunch of fresh cilantro
+ bunch of fresh basil
+ 1 tbsp olive oil
+ 1 tsp sea salt

Place all the loaf dry ingredients in a big bowl (flours, seeds, nutritional yeast, garlic powder, basil, turmeric, and cumin) and mix well. In a separate bowl whisk together water, olive oil, tamari sauce, and shredded carrots. Combine wet and dry ingredients, mix everything with your hands until evenly combined, and shape the plant-based mixture into a log. You can add more flour or water if needed until you get the right consistency.
In a nonstick skillet, add olive oil, onion, garlic, tomato, cilantro, and basil and cook over medium heat for about 4 minutes, stirring frequently. Add water, sea salt, and when the water starts to boil, add the loaf. Let cook over low heat for 10 minutes, then turn over halfway through cooking and let cook for another 10 minutes. Once done, remove from heat and use as protein in different recipes. This plant-based loaf can be stored in the fridge for up to 3 days, or store in the freezer for up to 1 month. Enjoy!
| | | | |
| --- | --- | --- | --- |
| calories | carbs | fat | protein |
| 232 | 32.8 g | 7.2 g | 9.6 g |
| | |
| --- | --- |
| calories | 232 |
| carbs | 32.8 g |
| fat | 7.2 g |
| protein | 9.6 g |
Baked avocado boats with eggs and smoked salmon are a match made in brunch heaven! Not only is this recipe healthy, but it is also gluten-free …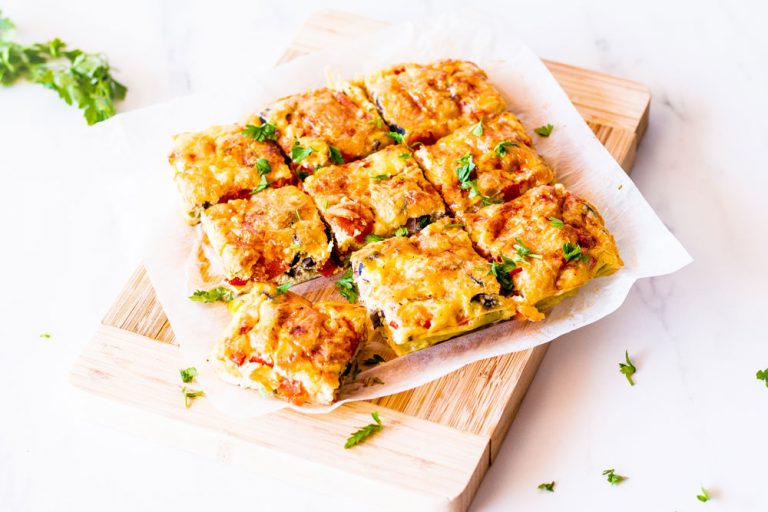 Delicious hot or cold, this easy 30-Minute Baked Egg Frittata with veggies is an efficient way to turn leftover ingredients into …
This garlic shrimp in tomato sauce with cauliflower mash is a low carb, easy to make recipe, that's packed full of flavor! Cauliflower mash …